Overseas tourists who visit Germany — the motherland of the Reformation — often expect "a country full of Lutherans," says Dr. Jobst Schöne, bishop emeritus
of the Independent Evangelical Lutheran Church of Germany, or SELK, an LCMS partner church.
In reality, less than a third of the reunited country's population is even Protestant, and about the same number — 31 percent — have no church affiliation at all, Schöne told members of the Concordia Seminary, St. Louis, community and guests during "German Days at the Sem."
"We can speak of Germany as a mission field," Schöne said, even among so-called "mainstream Protestants," who are largely no longer characterized by a Lutheran heritage "but by pluralism and a great variety of opinions, positions, and convictions, often contradicting each other."
Even those pastors and congregations that strive to hold on to the Lutheran Confessions have a hard time coping with the "widespread atmosphere of tolerance, openness, and indifference toward doctrine and confession," he said, the result of "modern individualism" and "privatization of the Christian faith."
Today's Christian churches in Germany "have lost much of their former influence," according to Schöne, and so-called Christians no longer worry about sin and forgiveness.
"In Germany, to be a Christian doesn't necessarily mean to be concerned about your eternal salvation, but much more to be concerned about social issues and problems," he said.
"Germany — Post-Christian, Still Christian, or Pre-Christian?" was the theme of this year's "German Days" event — one of 10 planned for each fall leading up to the 500-year anniversary of the Reformation on Oct. 31, 2017.
This year's event was sponsored by the Concordia Seminary Institute on Lay Vocation — now known as the Center for Lutheran Theology and Public Life — Oct. 12-13 on the seminary campus. It featured several German presenters, including Schöne; Dr. Hans Christian Knuth, who led the 11-million-member United Evangelical Lutheran Church in Germany from 1999 to 2005 and still serves as bishop of Schleswig and presiding bishop in the North Elbe region; Ulrich Pöner, director of the International and Migration Office of the German (Catholic) Bishops Conference; and the Hon. Wolfgang Drautz, Germany's consul-general in Chicago. Seminary faculty members also gave presentations and responses.
Leipzig-born Dr. Uwe Siemon-Netto, director of the Center for Lutheran Theology and Public Life, coordinated the event and gave a presentation on the decline of faith in the former East Germany — Luther's homeland — where less than a quarter of the population is Christian.
As a result of East Germany's former communist regime, which attempted to eradicate Christianity, the region is now the most atheistic in Europe, akin to a pre-Christian mission field, Siemon-Netto said.
Besides scholarly presentations and debate, "German Days" included:
a "Bach at the Sem" concert in the seminary's Chapel of St. Timothy and St. Titus. The concert — one of a series annually held at the seminary — featured the music of Johann Sebastian Bach performed by vocalists and instrumentalists of the American Kantorei, under the direction of seminary artist-in-residence Rev. Robert Bergt.
an exhibition of Reformation-era books and manuscripts, including Bach's Calov Bible commentary, with the composer's annotations and signature.
a Winzerfest, or wine festival, organized in cooperation with the town of Hermann, Mo., settled by Germans and known for wine-making.
Siemon-Netto said he considers the first "German Days at the Sem" a success because it involved people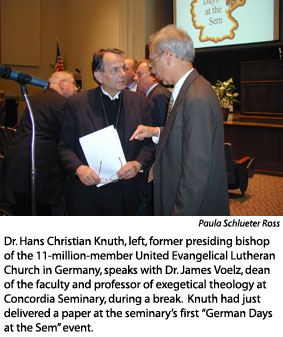 from all over the country and many parts of the world, and provided a forum for scholarly presentations and "lively debate" on topics related to Lutheranism and Christianity.
The free event, which drew about 200 people, was planned as a way of bringing Germany's "cultural contributions together" and to "combat this ludicrous cliché of Germany as the land of lederhosen and oompah bands," he said.
"Germany has so many other aspects. There's Germany and science … Germany and literature … Germany and the arts … the land of poets and thinkers."
And future "German Days" will highlight some of those other faces of the country, Siemon-Netto added, particularly "Germany's noble contributions to American history."
Next year's event is planned for Oct. 24-25 and will focus on Christianity and politics.
For more information about the Center for Lutheran Theology and Public Life, call (314) 505-7238 or e-mail center@csl.edu.
Posted Nov. 6, 2007