Longtime LCMS Hispanic ministry leader Dr. Robert F. Gonzalez died of a h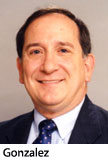 eart attack March 6 while on a business trip in San Antonio.
The Cuban-born Gonzalez, 61, had served since 2003 as associate pastor and mission developer at Our Redeemer Lutheran Church in Irving, Texas. A funeral service was held March 13 at Our Redeemer.
Gonzalez served twice as a national executive with LCMS World Mission — as counselor for Hispanic mission-field development in North America from 1998 to 2003, and as counselor for Hispanic ministries from 1989 to 1994.
In the four years between those two positions, Gonzalez served the Ohio District as the Synod's first missionary to Puerto Rico. His past service includes teaching at LCMS elementary schools in Miami and Tampa, Fla., and as a professor at the Hispanic Institute of Theology in the Chicago area, and serving as pastor at St. Matthew Lutheran Church, Tampa.
"Bob was a missional leader in one of the most strategic mission fields in the United States," said Dr. Robert Scudieri, associate executive director, National Mission Team, with LCMS World Mission. "He had a passion for sharing the love of Christ and demonstrated in his life the joy and love that we would hope Christians would all share.
"He made a significant impact on the growth of the Gospel among Hispanics in the U.S. and abroad, and he will be sorely missed."
Surviving Gonzalez is his wife, Susan; three daughters — Elizabeth (Jason) Prouty of Grand Prairie, Texas; Suzanne (Shannon) Kessler of Fayetteville, N.C.; and Deborah Gonzalez, who lives at the family home in North Richland Hills, Texas — and a grandson, Dallas.
In lieu of flowers, the family requests that memorials be designated to the "Our Redeemer Lutheran Church Building Fund," c/o Our Redeemer Lutheran Church, 2505 W. Northgate, Irving, TX 75062.
Updated March 14, 2007