Dan Johnson has been selected to lead the Agency Services Division of Capital Funding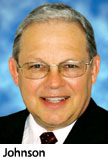 Services (CFS), a ministry of the Lutheran Church Extension Fund.
Johnson will serve on a deployed basis with an office in his home in New Haven, Ind.
His responsibilities with CFS include "training and supervising … consultants who work with LCMS districts, high schools, grade school associations, camps, and other Recognized Service Organizations and Synod agencies," said CFS Vice President Dave Kuerschner. "He will build on what CFS has established in helping grow stewards in support of ministries throughout the Synod."
Johnson — a graduate of both Concordia College (now University), Ann Arbor, Mich., and Concordia Teachers College (now Concordia University), Seward, Neb. — has been a certified fund-raising executive since 1991.
Most recently, he served as director of advancement for the Youth Opportunity Center in Muncie, Ind. Before that, his positions included director of major gifts for Concordia Theological Seminary, Fort Wayne, and director of development for Concordia High School, Fort Wayne.
Since its beginning in 1992, CFS has worked with some 700 congregations and agencies, helping their members commit to giving more than $254 million to help turn ministry visions into realities.
Posted Feb. 5, 2007