The float sponsored by Lutheran Hour Ministries (LHM) at this year's Tournament of Roses Parade, Jan. 1 in Pasadena, Calif., was named the "most beautiful" entry in its class of floats 35 feet long and under.
The LHM entry, the only Christian float in the 5.5-mile-long parade, won the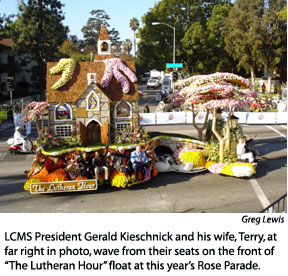 parade's Princesses' Trophy. Titled "God's Great Nature," the float carried LCMS President Gerald Kieschnick and his wife, Terry.
The float was decorated by LHM volunteers called "Petal Pushers," who range in age from teenagers to 80-plus and come to Pasadena each year from across the country.
This year, more than 5,000 Petal Pushers came to Pasadena to "volunteer and witness as they worked," decorating "The Lutheran Hour" float and four others for commercial sponsors.
"Many seeds were planted through their efforts and it is our continuous prayer that the Holy Spirit will touch the hearts of those who came in contact with us or through the viewing of the float in the media," said Dick Gast, the float's organizer.
This year's parade was seen by more than a million people along the parade route, and by 450 million more through worldwide television coverage, according to LHM.
The LHM float is sponsored by the Southern California District of the International Lutheran Laymen's League, an LCMS auxiliary. This year marked the float's 57th appearance in the annual New Year's Day parade.
To learn more about LHM, go to www.lhm.org or call (800) 944-3450.
For more information about the Petal Pushers, visit the group's Web site at www.petalpushers.org.
Posted Feb. 2, 2007