Concordia International School Shanghai (CISS) kicks off a new school year Aug. 15 with more than 1,000 students in preschool through Grade 12, two new buildings, and a new administrator.
Dr. Jim Koerschen of Brighton, Mich., began serving in July as the third head of school at CISS.  He succeeds Dr. David F. Rittmann, who died of a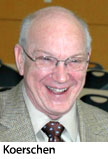 heart attack July 4, 2006.
Koerschen, 61, formerly served as executive director of enrollment services for Kettering University (formerly GMI) in Flint, Mich.  For 11 years (1992-2002), he was president of Concordia University in Ann Arbor, Mich.  Prior to that, he served as dean of student affairs and associate professor of education at Concordia College (now University) in Seward, Neb.
Koerschen earned his bachelor's degree from Concordia, Seward, in 1968; his master's in education in 1971 from Wayne State University, Detroit; and a doctorate in administration in 1987 from the University of Texas, Austin.
CISS is one of two international schools owned and operated by The Luther
an Church–Missouri Synod (the other is in Hong Kong).  It opened in fall 1998 with 22 elementary- and middle-school students.  Located in Shanghai's Pudong international-business district, the school offers an American-based curriculum in a Christian context to foreign-passport-holding students.
The two new buildings opened this fall on the 10-acre campus are:
the David F. Rittmann Fine Arts Center, which houses a 450-seat theater with orchestra pit and mezzanine/balcony levels; drama, music, and art rooms; and a rooftop garden for outdoor events.

a four-story elementary school, with 34 classrooms, a two-story motor-skills room, two rooftop playgrounds, a dining hall, and a library.
"I am very excited that God has placed me in a leadership role at a dynamic Christian school that is growing rapidly within one of the most dynamic cities in the world," Koerschen told Reporter.  "I am grateful that I have the opportunity to continue building on the great foundation laid by founder Alan Schmidt and his successor, David Rittmann.
"CISS has a very committed board of directors, an awesome faculty, and an outstanding administration.  I am truly humbled to have been called here."
Koerschen added that "God has richly blessed" he and his wife, Joanie, also an educator, "by moving us out of our comfort zone in Michigan" to the opportunity in China.  The couple have two married daughters and four grandchildren.
For more information about Concordia International School Shanghai, visit its Web site.
Posted Aug. 8, 2007