Dr. Gerald Krispin has accepted a call to become the seventh president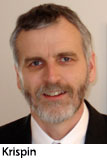 of Concordia University College of Alberta, Edmonton, beginning July 1.
Krispin, 51, succeeds President Richard Kraemer, who is retiring at the end of June after 17 years in the post.
Krispin has served since 1987 as professor of religious studies at the college. A 1981 graduate of the University of Alberta, Krispin received his M.Div. degree in 1983 from Lutheran Theological Seminary in Saskatoon and his Th.D. in 1992 from Concordia Seminary, St. Louis.
Concordia University College of Alberta, an institution of Lutheran Church–Canada, serves more than 1,800 students.
Posted May 30, 2007