During a Feb. 1 ceremony at the Pentagon, the U.S. Defense Department recognized Orange Lutheran High S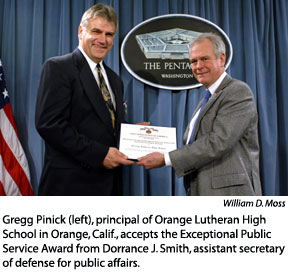 chool in Orange, Calif., for supporting one of its students and a program she started to thank those who serve in the armed forces.
The 17-year-old student, Shauna Fleming, founded "A Million Thanks," a member organization of the Department of Defense's "America Supports You" program that encourages support for the country's men and women in uniform.
Dorrance Smith, assistant secretary of defense for public affairs, presented the "Office of the Secretary of Defense Exceptional Public Service Award" to the high school's principal, Gregg Pinick, who accepted the award's citation and medal on the school's behalf.
"We're here to thank the students and the faculty and the staff of the Orange Lutheran High School for their dedication and support of our military men and women," Smith said. "Your high school has been a dedicated supporter of America Supports You.
"Thank you … a million thanks — 2.6 million thanks — for all that you
have done," he said.
"A Million Thanks" began as Fleming's effort to have a million messages of gratitude from Americans delivered to deployed service members. When she surpassed her million-letter goal in October 2004, she decided to raise the bar and strive for 2.6 million messages — one for every man and woman in the nation's active and reserve forces. She reached that second goal last November.
Pinick worked with Fleming and her school schedule so she could participate in special events involving "A Million Thanks." He also allowed her to use the school's mailroom to collect the letters, and let students sort, pack, and deliver the letters.
"'A Million Thanks' allowed all of us to be a part of something much bigger than ourselves," Pinick told Reporter. "Many people want to say thank you to the troops, but they don't have a mechanism by which to do it. Shauna's vision made it possible."
As a result, he said, "the recognition of the school has been tremendous all over the country."
Fleming, on hand for the award ceremony, said the school's participation was crucial in helping her reach her goal of collecting 2.6 million letters of support for t
he troops.
"I definitely could not have done it without my school," Fleming said. "They have been so helpful from the very beginning."
Fleming, who was profiled in the January 2005 issue of The Lutheran Witness, is now establishing "A Million Thanks" chapters around the country — and a foundation — to keep the work going while she attends college.
Pinick said he is still "amazed at how this idea took on a life of its own in a relatively short period of time.
"'A Million Thanks' has been a blessing to so many people around the world," he said. "It has been a privilege being a part of Shauna's dream."
For more information about "A Million Thanks," visit the Web site http://amillionthanks.org.
Posted Feb. 16, 2007