By Paula Schlueter Ross
Six Missouri Synod missionaries and their three children evacuated Guinea, West Africa, last month in the midst of violent protests triggered by actions of the country's president.
An angry mob wielding rocks and machetes broke windows on two trucks driven by missionaries Tim Norton and Andrea Herman as they headed from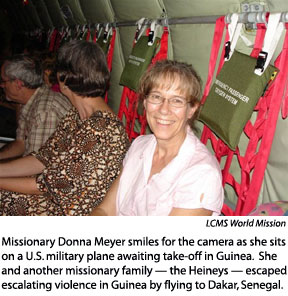 Mamou to Siguiri, in the northeast part of Guinea, Feb. 11. Riding in Norton's truck were his wife, Heidi, and the couple's children — Philip, 5, and Leslie, 1.
Herman — who had arrived in Guinea just six days earlier — was alone in her vehicle, but following closely behind Norton.
No one was seriously injured in the attack. Afterwards, the missionaries stopped briefly at their homes in Siguiri, and then drove across the border to neighboring Mali. The group is staying with Lutherans in Bamako, Mali.
"It was tense for awhile, but they are fine now," said Travis Torblaa, personnel care manager for LCMS World Mission. "They were able to talk to a counselor and seem to be fine now and are actually eager to go back" to Guinea, he said.
Other LCMS personnel stationed in Guinea — career missionaries Rev. Tim and Beth Heiney, their daughter, Andrea, 13, and missionary Donna Meyer — evacuated Feb. 15, flying to Dakar, Senegal, on a U.S. military plane.
The Heineys are relocating to Togo, West Africa, and plan to serve there until the situation in Guinea has stabilized and it is safe to return. Meyer — whose missionary term was to expire in a few months — was making plans to return to her home in Hastings, Neb., as this Reporter went to press.
In a Feb. 16 e-mail to LCMS World Mission staff and supporters, the Heineys said they were "shocked" by what they saw as they were driving to the airport the day before.
"While things looked fairly normal in our area, it was not so in other areas of town," they wrote. "We passed roads full of broken-out glass with myriad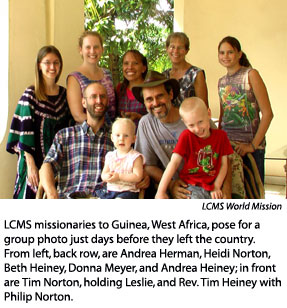 s of burned-out vehicles off to the side. Gas stations were totally destroyed and looted. Small boutique shops that had been attached to the stations were just three walls and a roof. Pumps were just gone. … It was horrific to see. The damage that was done will take a long time to repair."
Torblaa said the missionaries would not return to Guinea until it is safe for them to serve there.
"LCMS World Mission, the regional director for Africa, and the missionaries to Guinea continue to monitor the political climate within Guinea," Torblaa told Reporter.
"We praise God for the safety He granted the missionaries as they evacuated the country," he said. "We pray for a peaceful solution to the instability so that the Good News of Jesus Christ can be spread to the people of Guinea."
In their recent e-mail, the Heineys added, "please do not slow down prayers for Guinea because we are out. We want things to work out so that work can continue and we can all get back to our homes."
For more information about Guinea — and other countries in which LCMS World Mission supports Gospel outreach — visit the Web site www.lcmsworldmission.org (click on "International Work," then on the world area, such as "Africa").
Posted March 1, 2007