Laurence E. "Larry" Lumpe of St. Louis began serving Dec. 4 as executive director of Lutheran Hour Ministries (LHM).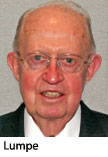 Lumpe succeeds Greg E. Lewis, who resigned Dec. 1 after serving three years in the post. LHM is a ministry of the International Lutheran Laymen's League, an auxiliary of The Lutheran Church–Missouri Synod.
"I do believe that the naming of Larry Lumpe as LHM's new executive director will be used by the Lord for His kingdom," Int'l LLL President Jack Kidwell told Reporter. "I thank Greg for his years of service with Lutheran Hour Ministries and I ask for the prayers of Lutheran Christians everywhere for both our organization and Larry,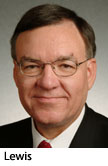 and for Greg and his family during this time of transition."
Lumpe, 79, served as LHM's executive director from 1989 until his retirement in 1996. He returned to the auxiliary to serve part time as senior major gift officer from 1996 to 2005, and has served in several volunteer capacities.
"Due to his years of leadership experience with Lutheran Hour Ministries and his love for our organization's worldwide ministry efforts, Larry is particularly well suited to lead Lutheran Hour Ministries as we continue in our mission of 'Bringing Christ to the Nations — and the Nations to the Church,'" Kidwell said in a Dec. 3 press release.
Posted Dec. 5, 2007