The publication of Luther's Small Catechism in India's Tamil language marks the 50th translation of the catechism by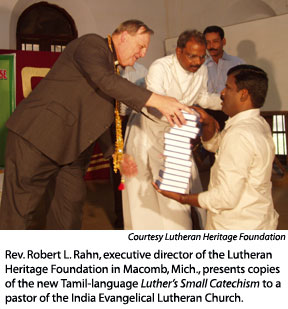 the Macomb, Mich.-based Lutheran Heritage Foundation (LHF).
About half of the 10,000 copies printed in Tamil were distributed in January among seminarians and pastors of the India Evangelical Lutheran Church (IELC), who were anxious to receive the new volume, according to LHF Executive Director Rev. Robert L. Rahn.
"There was a lot of excitement and great pleasure in having this text now as something they can use in their parishes," said Rahn, who helped distribute the books in India.
Tamil translations of the catechism had been produced by early Lutheran missionaries, but "had gone out of print and disappeared for many years," according to Rev. J. John Sundaram, LHF translator and former mission director of the IELC. "For decades, most catechesis was done only by memory," he said.
The new LHF volume took two years to complete, according to Rahn.
"It is our prayer that the Tamil Small Catechism will be the key to understanding Scripture for our Christian brothers and sisters in India," he said.
Rahn said it is especially important that India's young people study the catechism.
"It's very easy to lose the heritage that we have as Lutherans that's been handed down to us through the catechism," he said. "And with all the competing things that young people — as well as adults — face in their lives, if the catechism is not taught, it will be lost."
Most American Lutherans don't realize the power of "this book that we take for granted and [that gathers] dust on the shelf, in many cases," Rahn told Reporter. Churches have been planted "as a result of the catechism exposure" in countries like Sudan, he said.
In Somalia, where Rahn says the catechism is the only available Lutheran text, a "house church" has sprung up in spite of the killing of two Lutheran laymen there. One Somali man, whose life has been threatened, is making plans to attend a Lutheran seminary outside of Africa.
"His goal, as he states it, is to become a pastor and start the official Lutheran church in Somalia," said Rahn. After that, the Somalian says, "Then they can kill me, because I know they will kill me," according to Rahn.
"So that's the effect of the catechism," he added.
The Lutheran Heritage Foundation is a non-profit mission organization that has produced confessional Lutheran materials in 85 languages to date.
For more information, visit the LHF Web site at www.lhfmissions.org or contact LHF at (800) 554-0723 or info@lhfmissions.org.
Posted Feb. 26, 2007