The 2007-08 Lutheran World Relief (LWR) Handcraft Project catalog — featuring hundreds of handmade items from artisans around the world — is now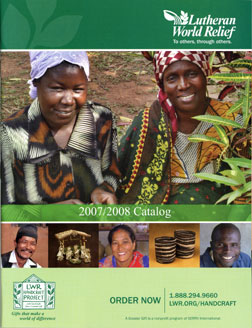 available.
Included in the full-color catalog are food and home-décor items, baskets, crosses, jewelry, Christmas ornaments, nativity sets, purses, rugs, clothing, kitchenware, games and toys, wind chimes, and musical instruments from Africa, Asia, Europe, and Latin America.
The catalog also features photos and brief stories about some of the items and those who produce them.
"Each product in this catalog has a story to tell — of cultural traditions, families fed, skills learned, communities improved, and brighter futures," LWR President John Nunes writes in a message on the back cover.
Those who purchase items from the catalog "are accomplishing three good things," Nunes says:
supporting the work of organizations like the Association for Craft Producers, an LWR partner based in Nepal that works with some 1,200 artisans — mostly women — to produce textiles, ceramics, and knitwear;
paying artisans a fair price for their products; and
helping to fund the "life-changing" work of LWR around the world.
The catalog and sales of its featured products are coordinated by SERRV International, a nonprofit trade and development organization that contributes 7.5 percent of each purchase to LWR.
To order a free LWR Handcraft Project catalog, call LWR toll-free at (888) 294-9660 or visit its Web site at www.lwr.org/handcraft. The Web site also features an online version of the catalog. Delivery typically takes between one and two weeks.
Posted Nov. 21, 2007