By Joe Isenhower Jr.
By the end of an initial "think tank" meeting Jan. 11 in St. Louis, the dozen-some members of LCMS World Relief/Human Care's new National Ag Board were ready to partner with LCMS World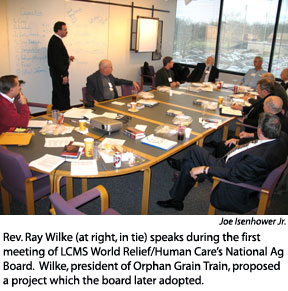 Mission to bring mission and mercy through agricultural-training locations overseas — a "first footprint," as one member put it.
Although most have not previously served the church on a national level, members of the Ag Board are active in their congregations and have "every kind of expertise you could ever think of in rural-based agricultural business," said World Relief/Human Care Executive Director Matthew Harrison.
Harrison led the "think tank" meeting, reminding members of Human Care's theology of mercy and the need to tap into the expertise of Missouri Synod members "to build capacity for Christian mercy."
"I am glad that we approved moving out with our first footprint of activity, rather than just theorizing," Rev. Ray Wilke said after the meeting.
Wilke is president of Orphan Grain Train, the Norfolk, Neb.-based LCMS Recognized Service Organization that works with LCMS World Relief/Human Care and others to gather, warehouse, and deliver donated personal and material resources for those in need.
Just back from visiting Liberia in December, Wilke earlier spoke to the Ag Board about the need to help citizens of the West African nation with agricultural development as they continue to recover from years of civil war.
He proposed the footprint as an Ag Board project to establish a "green zone" of land and buildings in Liberia, where U.S. consultants would work with indigenous leaders to teach sustainable methods of agricultural development. Work on the project would be done in a partnership of LCMS World Relief/ Human Care and LCMS World Mission, working with government leaders and educators to establish the footprint.
The new board later adopted Wilke's suggestion.
Wilke, who operates a 300-acre, 400-head cattle farm with his son, told Reporter he was "very encouraged" by the meeting, "to see and be part of the very first high-level official entrée to Jesus-style Gospel/ag activity" in the Synod.
The Liberia footprint would be "just a start of what we will be able to accomplish," said Ag Board member Bernard Wrede of Pierce, Neb.
With a background in crop farming and agricultural construction, Wrede now owns an intermodal container business that deals in international shipping.
He said he is sure that the board "will make a giant step toward feeding and helping the countries that so desperately need help. I'm probably optimistic, but I think we might even set a goal of a new project every other year."
Wrede rephrased an often-heard axiom — "If you give a man food for a day, you have fed him for a day. But if you teach and give him seeds, you have fed him for a lifetime."
Rod Conner, an Ag Board member from Richmond, Va., works as an independent consultant with ag companies "using technology to improve trade with industry partners," as he explains.
Conner observed that charitable organizations he knows of and supports "do great work helping those with physical needs, but it often stops there."
On the other hand, he said that Harrison's remarks to the board drove home the point that "we have a great example from Jesus' ministry — that spiritual needs should be attended to at the same time.
"I'm very enthusiastic that the Ag Board will be approaching projects with both the spiritual and physical needs of people in mind," Conner said.
When asked why LCMS World Relief/Human Care formed the Ag Board, Harrison began by relating that his own early background is rural and that "rural people have untold know-how, capacity, abilities, and resources that can have a tremendous impact on the world.
"This first meeting of the Ag Board absolutely confirms that," he said, adding that "sitting around the table were people with every kind of expertise you could ever think of in ag business."
"We in World Relief/Human Care wanted to gain insight about ways to begin to harness rural vocations for the sake of mission and mercy," he said. "After this meeting, I can say we're right on track."
Harrison indicated that LCMS World Relief/Human Care would like to hear from others in the Synod who have extensive experience in agriculture or who would like to offer suggestions for the Ag Board. They may contact Dennis Fangmann at (314) 996-1379 or dennis.fangmann@lcms.org.
Posted Feb. 5, 2007