Dr. Leopoldo Sánchez is the first occupant of the newly established Werner R.H. and Elizabeth Ringger Krause Chair for Hispanic Ministries at Concordia Seminary,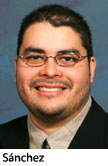 St. Louis.
Sánchez is associate professor of systematic theology and director of the seminary's Center for Hispanic Studies.
The chair was established by a gift from Werner and Elizabeth Krause, longtime friends and neighbors of the seminary, as a way of promoting and supporting Hispanic ministry in The Lutheran Church–Missouri Synod.
Mark Hofman, the seminary's vice president for philanthropic support, called the gift "a stunning affirmation of Concordia Seminary's commitment to share the pure Gospel of Jesus Christ with one of the fastest growing cultural segments in the world."
The annual revenue generated by the endowment "ensures that the Center for Hispanic Studies has a bold, committed leader serving as its director, and that the center has a stable source of financial resources available to carry its vision forward," Hofman said.
Posted Nov. 12, 2007