By Joe Isenhower Jr.
Synod leaders spoke of Easter assurance and reminded adults to look after their young people when they issued statements and prayers after a gunman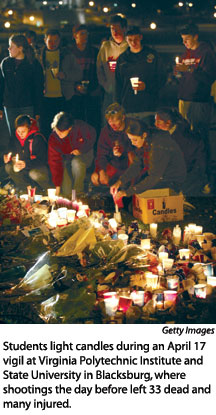 took 33 lives April 16 on the campus of Virginia Polytechnic Institute and State University, Blacksburg.
Special prayers were offered throughout the Synod during congregational worship, school devotions, and chapel services at Concordia University System colleges and universities.
Concordia Publishing House and Lutheran Hour Ministries offered resources in response to the shootings.
Authorities identified a university student as the gunman who shot and killed 32 people in a residence hall and classroom building at the university more familiarly known as "Virginia Tech," before taking his own life.
News of the shootings came by word of mouth to church workers registering for the LCMS Southeastern District's Spring Conference at Wintergreen, Va., just a three-hour drive northeast of the Virginia Tech campus.
Sally Hiller, mission and ministry executive for the district, told Reporter by e-mail that cable TV service to the meeting site had been interrupted by gale-force winds, which also grounded medical-evacuation helicopters at Blacksburg.
Those registering for the district conference heard reports of the shootings as they drove to the meeting place.
Hiller wrote in the April 18 message that she had received "numerous e-mails" revealing that the district's "many sons and daughters who are attending Virginia Tech … [and] a number of people who are on the staff there … are safe."
To those who were asking what they could do to help, Hiller suggested prayers for the Virginia Tech and Blacksburg communities, " … those whose lives are being touched by this event, … and for all your college students."
"As the 'mercy arm' of the Synod, LCMS World Relief/Human Care has deep concern and compassion for all those affected by this senseless tragedy of unparalleled proportions in our nation's history," said Rev. Glenn F. Merritt, director of Disaster Response with LCMS World Relief/Human Care. "We stand prepared to offer the combined resources of our Synod to those who must deal with the trauma and aftermath of such a terrible tragedy.
"In sincere sorrow and sympathy," Merritt added, "we reach out with the hope of the Gospel to those who mourn and to those who are traumatized by the incomparable events of April 16. With heart-felt empathy, we hold the entire Virginia Tech family and the Blacksburg community in our thoughts and prayers while pledging our assistance in the weeks and months to come."
Lutheran Disaster Response, a collaborative effort of the Missouri Synod and the Evangelical Lutheran Church in America, announced that it would be providing "spiritual and emotional care" for the Virginia Tech campus and surrounding communities.
Statements and prayers from Synod President Gerald Kieschnick, Southeastern District President Jon Diefenthaler, and others in the Synod were posted at Web sites and dispatched by e-mail.
"While one may never be able to explain fully to satisfaction the many queries of this incident," Kieschnick wrote in an April 17 statement to congregations and others, "one can find the answer for hope in such times in the Lord Jesus Christ. The Easter message of His resurrection reminds us that He has destroyed the power of sin, death, and the devil. From the hollowness of an empty tomb comes the message of comfort and healing that alone can fill the emptiness of lives left vacant by the sadness and sorrow in the tragic death of fellow students and family members and friends."
In an April 20 e-mail to district congregations and schools, Diefenthaler quoted Ps. 64:1: "God is our refuge and strength, an ever-present help in trouble."
"At such times," he said, "God is clearly the One who can provide refuge and strength. While the terrifying loss of life in Blacksburg suggests the contrary, God does not abandon us. For God sent His own Son into our world to suffer and die for the sin that is at the root of every tragedy. At the cross on which the body of Jesus was hung, we see God extending to us His helping hand of mercy. The strength to go on is what we also find in Jesus' resurrection from the dead. For it offers to us and our broken world the hope of new life."
Rev. Ken Klaus, speaker for "The Lutheran Hour," prayed "for those whose lives will never again be the same," asking the Holy Spirit "to descend upon those who mourn, hate, or feel loss. May He turn their hearts from this horror and cause them to look upon their Savior who wishes to make them more than conquerors in this catastrophe."
Diefenthaler spoke of the "ripple effect" of the tragedy at Virginia Tech.
"It touches not just the families and friends of those who were killed or injured, but every family with children in a college anywhere and every community in which there is a school of any kind," he wrote.
Diefenthaler urged readers "to pay special attention to your college students and their families. Reach out to them. Listen to them. As there is opportunity, speak of the 'refuge' and the 'strength' that God provides through the Gospel of Jesus Christ."
He suggested the same for schools operated by Lutherans, adding "this may also be a good time to revisit crisis and emergency plans."
Referring to prayers, statements, resources, and other communications, Diefenthaler said, "To see the larger church respond in these ways at a moment's notice is truly gratifying."
Posted May 1, 2007