Earlier this year the Synod's official periodicals — Reporter and The Lutheran Witness — unveiled new Web sites that are designed to offer more to online visitors.
The print Reporter's Web-based counterpart, Reporter Online — at www.lcms.org/reporter — is the Synod's most comprehensive source of news. Reporter Online offers every news story that appears in the print Reporter, but many are expanded versions that offer more information and more color photos.
The Web site includes all regular columns, letters, and "Notices" found in each Reporter, as well as a number of other stories that, because of space constraints, never appear in the print edition.
Readers may submit "Letters to the Editor" and "Items Wanted and Available" notices electronically via online forms, and find subscription and advertising information for the print Reporter.
Every Monday, Reporter Online features a new "Top Story" and alerts readers to stories that are "New This Week."
"We want to provide more news more often than the monthly print Reporter allows," said David Strand, executive director of the Board for Communication Services. "With Reporter Online, we can post — and update — stories anytime, and we encourage readers to check the site weekly."
The all-new Web site for The Lutheran Witness magazine made its debut in April. Prior to that, portions of the monthly magazine were simply offered as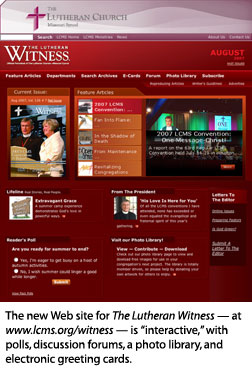 a downloadable PDF file.
The site — at www.lcms.org/witness — offers each edition's cover story, "Lifeline" story, "From the President" column, and "Letters to the Editor" in their entirety, plus introductory portions of feature stories, "Family Counselor," "Q&A," and "Shedding Some Light."
Current issues are posted to the site at the beginning of each month. At the start of the following month, each issue is archived — in its entirety — on the site.
Both The Lutheran Witness and Reporter Online Web sites offer "search" functions that allow readers to find current and previously published articles according to topic.
Besides magazine content, the online Lutheran Witness also offers:
a "Photo Library," with free downloadable color images that may be used by congregations. Visitors to the site are encouraged to submit photos for others to use.
a weekly "Reader's Poll" that invites visitors to answer questions. Previous poll questions and their tallies include "Which hymnal is your congregation currently using?" (Lutheran Service Book, 73; Lutheran Worship, 25; The Lutheran Hymnal, 27; and other/none, 15) and "Are you noticing a dramatic drop-off in your congregation's summertime church attendance?" (yes, 85; no, 15; somewhat, but not bad, 32).
more than 30 free "E-Cards," or electronic greeting cards, that may be sent via e-mail to celebrate birthdays, holidays, and other special occasions.
a "Forum" for online discussions.
a "Change of Address Form" that allows Lutheran Witness subscribers to update their mailing-label information.
guidelines for reproducing Lutheran Witness articles and for writing for the magazine.
"We are happy to present the Synod with these new sites," Strand said. "The new Witness site is much more interactive than the old. As for Reporter Online, it's pretty simple: There are more stories and pictures, and everything is better organized.
"We sincerely invite everyone to visit the online sites of the Synod's official periodicals."
Posted Sept. 4, 2007