The 2007 National LCMS Youth Gathering and LCMS Adult Gathering, July 28-Aug. 1 in Orlando, Fla., brought together some 25,000 youth and adult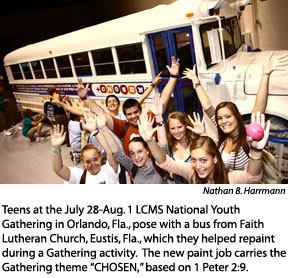 paid participants from all 35 LCMS districts and several nations, along with 1,500 volunteers, under the theme "CHOSEN," based on 1 Peter 2:9.
The event was the 10th triennial National Youth Gathering sponsored since 1980 by LCMS District and Congregational Services — Youth Ministry.
"You are all chosen. You are also the church at its best," Rev. Terry Dittmer, director for LCMS Youth Ministry, told participants at the close of the event. "You are the church with a smile on its face and the joy of Jesus in [its] heart, and it's time to go back out into the world and tell the world what we know about being chosen in the name of the Chosen One."
LCMS President Gerald B. Kieschnick addressed all the participants at the Sunday evening plenary session.
"The focus of these National LCMS Youth Gatherings is on your relationship with the God of the universe," Kieschnick said.
In his Gathering remarks, Kieschnick mentioned Resolution 2-05, titled "To Support National LCMS Youth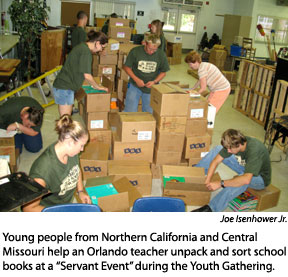 Gatherings," which was adopted by delegates to the 2007 LCMS convention in Houston earlier this summer.
The Gathering program was driven by daily general sessions for all participants, workshops, experience-based activity, fellowship, Bible study, worship, and service projects. The first LCMS Adult Gathering, drawing 160 participants, also was held concurrently with the Youth Gathering.
Service projects included 7,500 participants serving 39 elementary schools, 17 parks and community-senior centers, and nine private facilities throughout the greater Orlando area. At the Orange County Convention Center, eight sheds and 250 door or window headers were constructed with Thrivent Builds! and Habitat for Humanity. Key verses were highlighted in 3,500 Bibles to be distributed throughout the Florida penal system, and 2,500 fleece blankets for hurricane-affected families of the Southern District were assembled; 64 pints of blood were donated; 4,000 pounds of food were collected and sorted for the Second Harvest Food Bank of Central Florida; and 10,000 pairs of eyeglasses were donated, washed, inspected, calibrated, sorted, and packaged for the needy in Nicaragua.
Gathering services connected congregations back home to the events in Orlando. Each evening, an average of 1,800 viewers accessed cost-free live streaming video of Gathering mass events, with more than 2,800 online viewers watching the Tuesday evening worship service alone.
By late August, LCMS congregations and participants will receive copies of "CH07," a pictorial guide of the 2007 event, along with copies of a 2007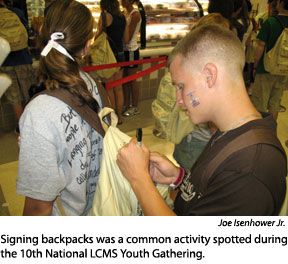 post-Gathering DVD.
Congregations may purchase the "Gathering Media Pass" at www.lcmsgathering.com. The pass includes high-resolution photography, graphics, and video for use in building media presentations.
"Our goal has been to provide media that allows the whole church to access the Gathering experience," said Gretchen Jameson, associate director for Youth Ministry and Gathering communications director. "The Gathering is the very best of the church at work together for its youth. And, through media, parents and congregations can connect with participants and share in the Gathering together."
The post-Gathering Web site remains online at www.lcmsgathering.com.
Planning is under way for the 2010 National LCMS Youth Gathering. Jameson said that event's location will be announced in the coming months as contract negotiations are completed.
Posted Aug. 6, 2007