Professional church workers who died during the past triennium were commemorated during a service of thanksgiving July 18 at the 63rd Regular Convention of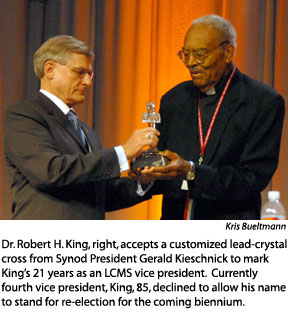 The Lutheran Church–Missouri Synod.
Dr. Robert H. King, current LCMS fourth vice president, spoke on the theme "One Message–Christ! The 'I AM' of Resurrection and Life."
Recalling the story from John 11 of Jesus raising Lazarus from the dead. King reminded convention delegates of Jesus' words: "I am the resurrection and the life. He who believes in me will live, even though he dies."
"This is the ultimate truth," King said. He emphasized that Lutherans do not have to ask "What is truth?" He said Lutherans do not have to be ashamed to disagree with postmodernism that says that truth is what brings satisfaction — or whatever we want it to be — because Jesus has declared, "I am the way, the truth and the life."
Then King encouraged the assembly to "step beyond our comfort" and, like Lazarus' sister, Martha, respond in faith — unhesitantly and forthrightly: "Yes, Lord … I believe that you are the Christ, the Son of God."
After the memorial service, Synod President Gerald B. Kieschnick recognized Dr. King's many years of dedicated service to the Lord and His church. King, 85, was ordained in 1949. He served as an LCMS vice president for 21 years, having been elected seven times.
Kieschnick presented King with a Waterford crystal cross that rests on a marble base and extended his and the Synod's sincere honor, appreciation, and respect.
Posted Aug. 3, 2007