By Joe Isenhower Jr.
After just under three hours of discussion that led to trimming $2.45 million from allocations to Synod units, the LCMS Board of Directors unanimously adopted a balanced operating budget of $84,039,495 for the national Synod during its May 8-9 meeting in St. Louis.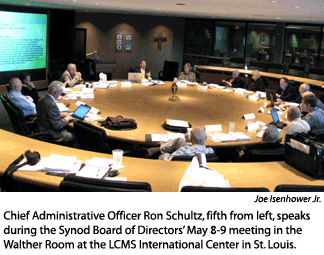 As they wrestled with ways to make sure that allocations totaled no more than the amount of unrestricted funding available for the fiscal year that starts July 1, some Board members mentioned terms such as "reduction," "reluctance," and "out of options."

As they began considering the budget, Board members were first faced with the need to pare $1.9 million in allocations, to balance the budget.

Chairman Donald Muchow offered encouragement, saying that "God is with us and we should be thankful and grateful for every penny for which we are stewards."

Muchow made that observation along with other "givens" that he urged "keeping in mind … at this challenging time for our Synod."

He also encouraged Board members to remember that:
Districts that are not able to fulfill their pledges to the Synod should not be judged.

The lagging national economy affects the church.

The LCMS is not currently growing.

"People are always more precious than things."

"We must think carefully about the vision and mission of our Synod and let that serve as the plumb line for all that we say and do."

"Our discussion should bring glory to God and support our world-wide outreach, bearing in mind the objectives of our Synod."

"Surprises happen."
"This is the year of reckoning," Synod Vice President-Finance/Treasurer Thomas Kuchta said as the Board began its budget discussion. Kuchta explained that the Board would need to trim allocations to Synod units that would allow unit executives no options other than to "make cuts that will have program impact."

On the positive side, Kuchta told the Board, "Clearly, I think there are serious efforts by districts to increase their pledges to the Synod. It's a real optimistic sign."

Kuchta explained that about 25 percent of the Synod's 2008-09 operating budget will be funded from unrestricted funds, 75 percent from restricted funds and proceeds from sales of materials and support services.

"This day has been a long time coming," said Synod President Gerald B. Kieschnick, as he noted that in 1973, unrestricted revenue for the Synod exceeded the 2008-09 anticipated unrestricted income, even before adjusting for inflation.

Kieschnick also called attention to the need to encourage congregations to respond to district needs as well as those of the Synod, since budget considerations are also forcing districts to make reductions in their staffs and programs.

Muchow noted a number of developments in the Synod that are having positive impact on stewardship. They include the "Consecrated Stewards" biblical-stewardship program that is resulting in more members volunteering for ministry involvement as contribution pledges increase by an average of 25 percent; and correlation of the work of two Synod blue-ribbon task forces — one for "Funding the Mission" and the other for "Synod Structure and Governance."

Kuchta and Charles E. Rhodes, executive director of accounting for the Synod, presented the budget to the Board, along with suggestions for trimming unit-funding allocations.

Rhodes explained that Synod finance and unit executives "worked long and hard" over a number of meetings to pare down the 2008-09 budget requests, starting with a $5.1 million revenue shortfall, which they reduced to $1.9 million.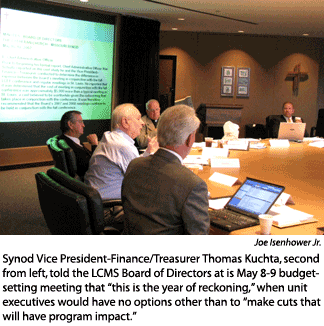 Kuchta called that process "collegial and collaborative," and said the unit heads — known as the "Corporate Synod Executives" (CSE) — "are and remain totally dedicated to the task."

As a result of that work, the revenue shortfall was at $1.9 million when Rhodes and Kuchta began the budget presentation.

The Board considered numerous options for achieving a balanced budget, including 10 percent across-the-board, which Chief Administrative Officer Ron Schultz explained would not be feasible, due to certain fixed costs for a number of services.

"We need to send a strong message that this year there will be cuts for program boards," Board member and former Chairman Robert Kuhn said.

In the end, the Board's reductions total $2.45 million — $550,000 more than originally proposed by the CSE — since the Board also added to the budget $500,000 in contingency funds and $50,000 for convention-mandated efforts to bolster harmony in the Synod.

Final reductions and the entities or lines to which they apply are as follows:
Board for Mission Services — $300,000.

Board for Pastoral Education — $100,000.

Board for University Education — $400,000.

Board for Human Care Ministries– $400,000.

General and Administrative expenditures — $100,000.

Refinancing of Concordia University System's debt — $1,150,000.
The Board of Directors also approved 2008-09 capital budget requests totaling $790,400.

On the first day of its meeting, the Board met in executive session for two hours with the Blue Ribbon Task Force for Synod Structure and Governance to hear an update of the task force's work, which is expected to culminate with the 2010 Synod convention.

During his regular report to the Board, Kuchta revealed that in March he received, on behalf of the Synod, a check for $828,000 from Concordia Publishing House (CPH), representing 10 percent of the LCMS publisher's net income for 2007.

"What a wonderful gift!" Kuchta wrote in his report to the Board, noting that "this is a significant increase from prior years, as a result of the successful marketing of the new [Lutheran Service Book] hymnals."

Concordia University Texas President Thomas Cedel told the Board that progress is on schedule, within budget, and according to plan for the move of that Synod school this summer from its land-locked location