"Reaching Rural America for Christ," a conference for lay leaders and professional church workers in rural and small-town Synod congregations, is planned for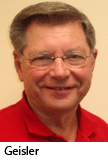 Nov. 6-8 at Mahoney State Park in Ashland, Neb.
The conference will gather leaders to share common experiences and explore how to be mission outposts in their communities, according to Dr. Ralph Geisler, interim director of the Saint Paul Institute for Education, which is sponsoring the event. "There is much we can learn from each other," he said.
Geisler listed five objectives:
Assist congregations in taking intentional steps to create positive missional attitudes for Gospel proclamation, community service, and outreach.
Celebrate common heritage.
Examine the impact of ever-changing culture on rural and small-town congregations.
Build a network for leadership training and ministry support among LCMS districts.
Investigate stewardship attitudes for maximum use of resources.
Speakers for the event, and their topics, include Dr. Jock Ficken, Lutheran Church Extension Fund vice president, "Making Changes in Rural Congregations and Living to Tell about It"; Dr. Richard Bimler, former president of Wheat Ridge Ministries, "Caring for Pastors in Rural/Small Town Congregations"; Rev. Scott Snow, director of outreach with LCMS World Mission, "Reaching the Lost in Rural/Small Town Communities"; and Terry Gerdts, senior vice president of gift-planning services, LCMS Foundation, "Resourcing Multi-point Congregations in Rural/Small Town Communities."

The conference will include separate breakout sessions for congregations with worship attendance under 100, worship attendance over 100, and multi-point parishes.

"My discovery is that among the 2,500 LCMS rural and small-town congregations in the heartland districts there are different cultures," Geisler said. "Knowing the culture can help the leaders understand why the congregation does what it does and help in making changes in the mission and ministry."

Half of the U.S. population is considered unchurched, Geisler said, adding that the statistic also applies to rural communities. He adds that people, including ethnic groups, are moving from the cities to rural communities and they bring new cultural experiences and perspectives.

Ashland, where the conference will meet, is about 25 miles southwest of Omaha.

The cost for the conference is $300 per participant and includes two nights lodging, meals and materials. Participation is limited to 150 people. Registration may be completed by calling the Saint Paul Institute for Education in Concordia, Mo., at (888) 463-5127.
Posted June 12, 2008