Children Making Music, a new DVD resource produced by the Synod's Commission on Worship, encourages children, parents, and congregation leaders to make music-making a part of their lives.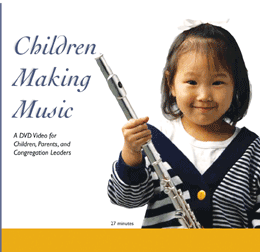 "In an engaging and inspiring style, children, musicians, parents, and church leaders tell the story of music in their lives and of the importance of music to the proclamation of the Gospel," said Rev. Jon Vieker, assistant director of the Commission on Worship.
The 27-minute DVD is designed for use by Sunday school classes, day school music classes, confirmation classes, parent-teacher associations, elders, church councils, school boards, and other groups.
It will premiere at this summer's Institute on Liturgy, Preaching, and Church Music, July 22-25 at Concordia University Nebraska, Seward, and will be mailed to all LCMS congregations in late July.
Children Making Music also will be available Aug. 1 in streaming video on the commission's Web site at http://worship.lcms.org/ChildrensDVDResources. Also available on the site is a list of additional resources on children and music.
Free copies of the DVD may be requested via e-mail at worship@lcms.org.
Posted June 5, 2008