Concordia Publishing House has released a new children's Bible and is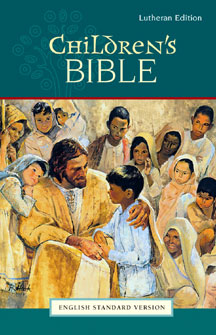 offering savings on Easter products and school items.
The ESV Children's Bible is aimed at children ages 6 to 12 and features more than 200 color illustrations, a timeline of the Old and New Testaments, and the six chief parts of Christian doctrine. Lutheran explanations are added to help children understand the language that is the same as the standard ESV Bible. Cost is $24.99 (item no. 01-2014WEB).
Free shipping for orders of $50 or more is available for items purchased from CPH's Inspire spring catalog, which includes Easter products.
New books in the catalog include:
The Easter Day Surprise, by Jane L. Fryar ($14.99, item no. 56-2436WEB), which uses poetry and illustrations to retell the events of that first Easter Day, for ages 5 to 9.
That's My Colt!, by Dandi Daley Mackall ($14.99, item no. 56-2432WEB), which tells the story of a young boy who loses a favorite pet for a special purpose, ages 5 to 9.
New Easter products in the catalog include the Calla Lily Cross ($21.99, item no. 36-0541WEB); the Gospel Egg (pack of 12 for $19.99, item no. 36-0536WEB); Egg Diorama Town Figurine ($21.99, item no. 36-0730WEB); and Easter's Love Cross ($14.99, item no. 36-0832WEB).
Some classroom Easter products are reduced in price through March 14:
God's Easter Promise, which contrasts the difference of how we might "plan" the events of Holy Week compared with God's plan ($7.99, regularly $9.99, item no. 56-2343DWB), for ages 7-10.
Something Wonderful, an interactive telling of the Easter account that allows for responsive reading ($3, regularly $3.75, item no. 54-0079DWB), for ages 2-5.
Christian Easter Eggs Up-Down-All Arounds, that includes decorative Easter egg designs ($2.99, regularly $4.99, item no. 25-6344DWB).
Easter Music, which provides musical elements for chapel with favorite Easter songs.
To order any of the above items, call CPH at (800) 325-3040 or visit its Web site at www.cph.org. Prices quoted do not include shipping costs.
Posted March 13, 2008