Jake, Megan, Hannah, Colin, and Mitch are five high-school seniors from Warsaw, Ind., and their story is coming to a multiplex screen near you.

"American Teen," a PG-13-rated documentary from director Nanette Burstein, follows the lives of the five students and their classmates from the firs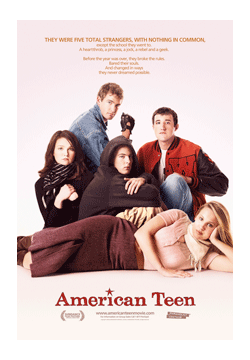 t day of school through graduation. The result is what some have called "the 'Breakfast Club' of the new millennium."
First released at the Sundance Film Festival earlier this year, "American Teen" has garnered critical acclaim from many sectors.
On the surface, the film's five stars embody the stereotypical high-school roles of jock, princess, rebel, geek, and heart-throb, but, in reality, their lives are much more complicated. The students navigate a constantly changing landscape of friends, family, and personal issues. They are searching for something better in life, and the film is their unscripted story.
Christian viewers can expect to be uncomfortable with the film's portrayal of teen language, sexual behavior, and alcohol use, but "will realize that, like it or not, and good or bad, the scenario of 'American Teen' is not too far removed from the average teen landscape of today's culture," according to Concordia Publishing House.
Says CPH: "The question for those of us who care about kids and recognize that something is very wrong with today's student experience, is: what do we want to do with the themes of this film as we engage youth with the message of God's Word?"
In response to that question, CPH is offering a free discussion guide that's designed to "enable youth and adults to process the themes of 'American Teen' … evaluate their relation to the film, and apply what they learn in their daily lives as Christians."
The guide is the first in "a new style of youth resource" from CPH, according to Gretchen M. Jameson, director of public relations and corporate communications at CPH. "Our desire is to meet real needs in real time, and those working with students often need current, timely talk sheets and materials to help them engage students and student culture with the Word of God," Jameson said. "The 'American Teen' resource is an example of CPH listening — and immediately responding — to the needs of today's youth workers."
The new resource can be used with church youth groups following a viewing of "American Teen," or to help adults prepare to discuss the film with teens, according to CPH.
The discussion guide is available as a free download at http://www.cph.org/cphstore/pages/corporate/news.asp.
Posted Aug. 28, 2008