Family Shield Ministries is sponsoring a seminar Nov. 13 at Concordia Seminary, St. Louis, to introduce Witnessing — A Lifestyle, a new book designed to en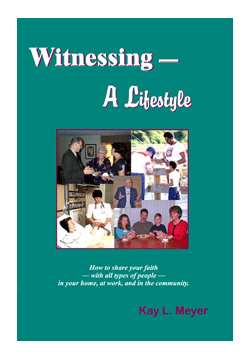 courage, motivate, and equip Christians to use everyday situations to share the Gospel with family members, friends, co-workers, and members of their communities.
The 160-page book was written by Kay L. Meyer, founder and president of Family Shield Ministries, a St. Louis-based LCMS Recognized Service Organization that "educates and equips people, through the power of the Gospel, to know Christ" and works to strengthen individuals and their families. The ministry produces a one-hour radio program that airs weekly on KFUO-AM 850 (www.kfuo.org) in St. Louis, as well as stations in eight other Midwestern states.
Meyer will serve as presenter and facilitator at the seminar, which will run from 8:30 a.m. to 3 p.m. The $35 registration fee includes a copy of the book, additional resources, and lunch.
The new book espouses a "lifestyle-friendship-building approach," which is "non-threatening, offers participants simple ways to begin the witnessing process, and focuses on making friends and building positive, trusting relationships," according to Meyer. It's designed to "equip Christians to share God's grace and forgiveness when the Lord opens the door," she said.
The book is divided into four parts:
"Witnessing Basics,"
"Witnessing Begins at Home,"
"Witnessing During Holidays," and
"Witnessing in the Community."
Its production was made possible, in part, through a grant from the Northern Illinois District of the Lutheran Women's Missionary League.
Witnessing — A Lifestyle will be available this fall for $12.99, plus shipping.
To order the book or register for the seminar, call Family Shield Ministries toll-free at (866) 370-6070 or send an e-mail to info@familyshieldministries.com. For more information, visit its Web site at www.familyshieldministries.com.
Posted Sept. 12, 2008