Rev. James E. Fandrey has accepted the call to become executive director of the Lutheran Heritage Foundation (LHF) of Macomb, Mich., beginning Jan. 1.

In that position, Fandrey, 57, will succeed Rev. Robert H. Rahn, 72, who i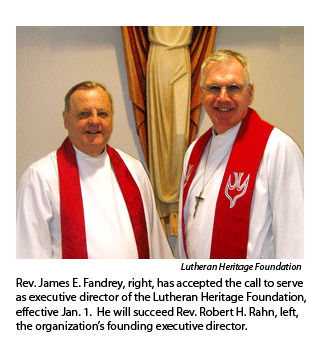 n late 1992 founded the Synod Recognized Service Organization dedicated to translating and publishing Lutheran materials worldwide.

Fandrey has been LHF's director of development and church relations since December 2006.

"I'm excited, yet humbled, to lead this organization as the Holy Spirit works through LHF books to explain His Word to people everywhere, in a language they can understand," Fandrey said.

In what he described as a "planned transition," Rahn told Reporter that he will work in the area of development and church relations for LHF starting Jan. 1, and that he also plans to write a book about the organization's history.

"I don't think it is wise or prudent for the head of an organization to serve until he drops," Rahn said. "It is a disservice to the organization and causes distress when an immediate successor has to be found. By means of a planned transition, the organization and its staff can be well served to continue in a sustained manner."

"During my time at the helm of LHF, I've been blessed to witness the Holy Spirit working through the 425 books LHF has translated and published," Rahn said. "As I seek to cut back on my responsibilities, I'm very pleased that the Board of Directors has extended the call to Rev. Fandrey, who has shown his dedication to continuing the LHF mission since he joined our staff 18 months ago."

A 1980 graduate of Concordia Theological Seminary, Fort Wayne, Fandrey at various times served four pastorates in Nebraska, Minnesota, and Illinois. He was a circuit counselor in two of those locations, and first vice president of the LCMS Nebraska District from 1994 to 1997. He served a six-year term (2001-07) on the Synod Board of Directors, for which he was vice chairman.

Rahn observed that Fandrey's district and Synod leadership responsibilities "provided invaluable administrative skills, while his 25 years of being a parish pastor have given him solid teaching and outreach experience."

"Part of a pastor's job is to determine how best to teach his people the truths of God's Word and what materials to use," Fandrey said. "Another part is finding the best ways to reach out to unchurched people in our community. LHF's mission of translating and publishing Lutheran materials for the church around the world is very similar, only on a global scale."

Fandrey also said that LHF's work to determine which materials to translate and publish in different languages for various Lutheran bodies "complements mission endeavors around the world."

In addition to Fandrey's acceptance of the executive director position, LHF announced that Rev. James May has accepted the call extended by its Board of Directors to assist Dr. Anssi Simojoki, LHF vice president in Africa — effective Aug. 1.
For more information about LHF — including its mission and a list of books and materials it has published — visit www.lhfmissions.org.
Posted Aug. 7, 2008