Dr. Larry S. Harvala, president of the LCMS North Dakota District since 2000, has accepted a call to the faculty of Concordia Theological Seminary, Fort Wayne, Ind., where he will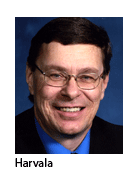 serve as associate professor of pastoral ministry and missions, beginning with the new academic year in September.

Harvala, 55, is finishing his third three-year term as district president — the maximum allowed by the district's constitution. Also in his maximum-allowed third term as first vice president, Rev. Patrick O'Brien of Oakes, N.D., assumes the district presidency for the remainder of the term. His installation is being planned for early August.

Rev. Carlyle L. Roth of Minot transitions from second to first vice president to finish out the term.

North Dakota will be the first of the 35 LCMS districts to hold its triennial convention next year — Jan. 18-21 in Minot. Among 2009 convention business, all the districts will conduct elections for president and vice presidents.

Harvala, of Carrington, N.D., for the past two years has been chairman of the LCMS Council of Presidents placement committee, on which he has served for nearly five years. Since 2005, he has chaired the Board of Directors of Lutheran Social Services of South Dakota.

A 1980 graduate of the Fort Wayne seminary, he was pastor of a dual parish — Grace Lutheran Church, Carrington, N.D., and St. Paul, Sykeston, N.D. (1989-2000), and Immanuel/Zion Lutheran Church, Lidgerwood, N.D. (1980-88), before he was elected district president. He received an honorary doctorate from Concordia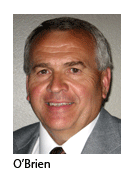 University, St. Paul, Minn., in 2005.
Harvala told Reporter that at the seminary, he will teach classes in pastoral practice; homiletics; and the inter-relationships of pastors, congregations, and the Synod.

"It's a very humbling thing," he said of his call to the seminary. "Looking on the experiences I've had as a pastor and administrator, it will be a joy and a challenge to work with future pastors to help them be the best that they can be — in terms of what they can expect in ministry."

O'Brien, 60, has been pastor of St. John's Lutheran Church, Oakes, since 1982. A 1975 graduate of Concordia Theological Seminary, which was then located in Springfield, Ill., he first served for seven years as pastor of a dual parish — Emmanual, New Rockford, N.D., and St. John, Fessenden, N.D.

O'Brien indicated that he plans to continue as pastor of St. John's, Oakes, for the remainder of this term — commuting between there and the district office in Fargo.
Posted July 17, 2008