Lutheran World Relief (LWR), Baltimore, is inviting all past LWR study tour participants to attend the first-ever LWR Study Tour Reunion, Oct. 24-26 a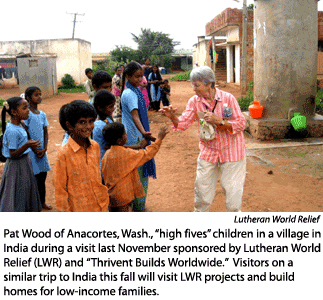 t the Heartwood Retreat Center in Trego, Wis.
Under the theme "LWR Asks: Are You Willing?," the reunion will offer study-tour alumni opportunities to reconnect with fellow tour participants, talk with LWR staff, learn what's new at LWR, and attend LWR-related workshops.
Workshop topics include:
"LWR at Work: Regional Updates," an overview of LWR's work worldwide.
"After the Reunion: Being an Ambassador for LWR," a how-to guide for representing LWR in your congregation, campus, and community.
"LWR and Fair Trade: An Overview," a description of what "Fair Trade" is, how it works, and who benefits.
"LWR's Fair Trade Projects: Where to Begin, Where to Go," ideas for starting a Fair Trade project in your congregation.
"Change Begins with You (and LWR)," a description of "advocacy" and how to get involved in conflict resolution in other countries.
"From You to Timbuktu: Where your Lutheran World Relief Quilts and Kits Go in the World," an update on how LWR quilts and health kits are distributed and how they are touching lives.
"LWR's Battle Against Diseases of Poverty," information on LWR's work in the fight against "preventable" diseases such as malaria, HIV/AIDS, and tuberculosis.
Also during the reunion, LWR President and CEO John Nunes will deliver a keynote address at a dinner with LWR staff and study-tour alumni.
Three "pre-reunion" book discussions will be held from 1 to 5:30 p.m. Oct. 24 on Bitter Grounds, by Sandra Benitez; God Grew Tired of Us, by John Bul Dau with Michael Sweeney; and The Bottom Billion, by Paul Collier.
Cost of the three-day reunion — including lodging, meals, and materials — varies from $159.33 to $298.83 per person, depending on choice of accommodations. Registration forms are available online at www.lwr.org/study. Deadline for registrations is July 30.
Several LWR study tours are scheduled for India, West Africa, Nicaragua, Colombia, and the Philippines over the next year. The one- to two-week experiences focus on issues such as HIV/AIDS, food security, peace building, Fair Trade, and healthcare. To read about them, click here.
For more information about study tours or the study-tour reunion, visit the Web site above or contact Rebecca Lange-Thernes at (410) 230-2737 or rthernes@lwr.org.
Posted July 10, 2008