"You and I sooner or later are going to experience what comes to all people — we are going to experience dying. But there is a difference between us and the world. The world looks away from that fact and tries to hide it as much as p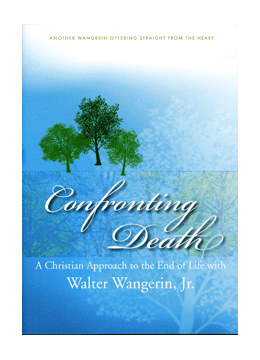 ossible. But we, as faithful people, have the power and ability to look death straight in the eye and understand it."
So begins "Confronting Death — A Christian Approach to the End of Life with Walter Wangerin Jr.," a new DVD that explores death from a Christian point of view featuring award-winning writer and Evangelical Lutheran Church in America pastor Walter Wangerin Jr.
Drawing from his own experiences with life-threatening cancer over the past two years, Wangerin shares how the illness has changed his life and how his faith has sustained and prepared him to meet death.
In the 60-minute program, Wangerin addresses:
Discovering serious illness.
Grieving before death.
Caring for the one who is not sick.
How do we handle the pain?
Confronting the dying itself.
The DVD, which includes discussion questions, may be used by Sunday school classes and other study groups, and by caregivers who do visitation ministry and work with those who are grieving. It has received approval through the Synod's doctrinal-review process.
"Confronting Death" is available for $59.95 from Paraclete Press, Orleans, Mass. There is no shipping charge if ordered online. For more information or to order, call (800) 451-5006 or visit the Web site www.paracletepress.com.
Posted July 3, 2008