Eleven new projects mounted by Lutheran congregations to help immigrants, refugees, and asylum seekers in their communities are receiving a total of $46,364 this year from the Good Samaritan Fund — a joint ongoing project of Lut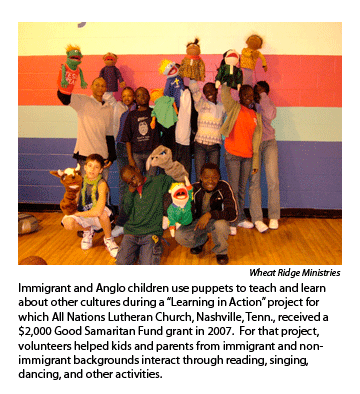 heran Immigration and Refugee Service (LIRS), Baltimore, and Wheat Ridge Ministries, Itasca, Ill.

Among those projects, all but one is sponsored by Missouri Synod congregations or a Synod mission start.

Sponsoring congregations are being awarded seed grants of up to $5,000 for each new project. In turn, the congregations must cover at least 25 percent of their projects' costs, either through cash or in-kind support. Funding priority goes to projects that seek to provide either social or legal services, joint projects between community members and new residents, or leadership development in the ethnic groups served.

Congregations eligible to apply for Good Samaritan Fund grants must be in the LCMS, the Evangelical Lutheran Church in America, or the Latvian Evangelical Lutheran Church in America — the three church bodies for which LIRS is a cooperative agency.

Leaders of congregations interested in applying for a Good Samaritan Fund grant may visit www.wheatridge.org or www.lirs.org for information about the grant process. Applications for the round of Good Samaritan Fund grants to be awarded in 2009 will be available on the two Web sites beginning this fall. For more information, contact Brian Becker, vice president for Ministry Programs for Wheat Ridge, at (800) 762-6748, or Pam Bloom, senior consultant for LIRS, at (410) 230-2875.

Concerning the 2008 grant recipients, Becker said, "We are pleased to be able to partner with these Lutheran congregations that have a heart for refugees and immigrants. It's exciting to see the results of the many positive seeds sown through the Good Samaritan grant program. There is real hope and healing taking place in these congregations."

"LIRS envisions a world where all communities welcome refugees and migrants," said LIRS President Ralston Deffenbaugh Jr. "It's a special blessing to partner with Wheat Ridge and with Lutheran congregations to welcome the stranger in ways unique to their communities. Through these local ministries, the church identifies needs and works hand-in-hand with immigrant communities to address them."

The 2008 Good Samaritan Fund grants recipients are the following congregations – all LCMS, unless noted otherwise:
Trinity Lutheran Church and Mount Calvary Lutheran Church, both located in Santa Cruz County, and Lutheran Community Church (ELCA), Watsonville, Calif., with a $4,000 Good Samaritan grant for a neighborhood immigration information center in which they are partners.
Cristo Senor de la Vida Lutheran Mission, Rockville, Md., $5,000 for a support system for Hispanic immigrant families.
Bethel, St. Paul, Minn., $4,475 for a mentoring program for West Africans attending financial literacy classes.
Concordia, Kirkwood, Mo., $1,900 for a monthly opportunity for immigrant and refugee women to learn about health care and healthy family living from certified health-care professionals.
Our Redeemer, Kansas City, Mo., $5,000 for a tutoring program for Latino and Liberian families.
Beautiful Savior, LaVista, Neb., $5,000 for English-as-a-second-language (ESL), computer, and citizenship classes.
Mission, Las Cruces, N.M., $3,000 for ESL classes.
Augustana (ELCA), Tonawanda, N.Y., $5,000 for driver's license support.
Grace, Mastic Beach, N.Y., $5,000 for cultural interaction and assimilation.
St. Peter, Brooklyn, N.Y., $5,000 for ESL for the Bengali.
Trinity, Cleveland, Ohio, $3,000 for relocation, ESL, and other programs for the Arabic community.
Posted July 10, 2008