By Josh Lange
NAGERCOIL, India — The India Evangelical Lutheran Church (IELC) commemorated its 50th anniversary as an independent church body during "Golden Jubilee" celebrations June 18-20 at the IELC's Concordia Theological Seminary here.
The Golden Jubilee coincided with the church body's annual "Pastors Refresher Course" and brought together h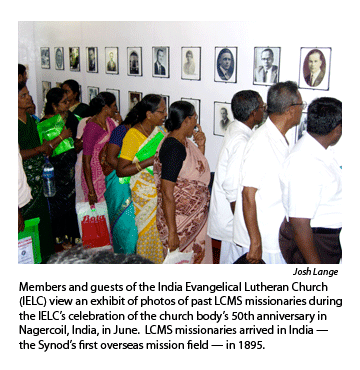 undreds of church leaders, pastors, and laypeople from across India. The three-day celebration was an opportunity for the IELC to share its vision for the future while taking pause to honor its past leaders.
"It's been a very important event and I really admire the leaders for taking it seriously," said Dr. Herb Hoefer, area facilitator for India and Sri Lanka with LCMS World Mission. "They wanted the whole church to come together to recognize who they are, to celebrate the Lutheran heritage they have, and to see the opportunities for outreach in the coming years."
Hoefer, who attended the celebration here, is the most recent in a long line of LCMS missionaries to India. In 1895, India became the Missouri Synod's first overseas mission field as LCMS missionaries arrived in the southern part of the country to discover a land characterized by dozens of language and people groups, several prevailing religions, a discriminatory caste system, and extreme poverty.
Despite these formidable conditions, God worked through the early missionaries and the Gospel began to take root. In the following years, hundreds of LCMS missionaries received God's call to India, and after more than 50 years as an LCMS "daughter" church, the IELC became an independent church body and the first LCMS partner church in 1958.
According to today's IELC leaders, the church body has never forgotten the influence of its "mother" church or the sacrifices made by those first missionaries. A special exhibition featuring photographs of many past LCMS missionaries was unveiled as part of the Golden Jubilee celebration. IELC President Dr. J. Samuel expressed his church's gratitude in his opening speech, saying, "On behalf of IELC, I extend my humble thanks to our parents, the LCMS."
Samuel and his fellow church leaders say they are seeking to emulate those first missionaries by fostering a renewed focus on evangelism and outreach. When the LCMS unveiled the Ablaze! movement with the stated goal of sharing the Gospel with 100 million people by the year 2017, the IELC quickly jumped on board, committing itself to a personal goal of 25 million. The church body incorporates this vision into its everyday thinking, including the theme for the Golden Jubilee: "Being Ambassadors for Christ for Mission Ablaze."
"They take Ablaze! very seriously," Hoefer said. "They were ablaze before Ablaze! started."
Central to this focus on evangelism is the IELC's church planting program. Previously, each graduate of the seminary here had served a three-year "probation" in an established congregation prior to his ordination. But since 2001, these "probationers" have instead been sent out with the challenge of planting a new church rather than serving an existing one. God has richly blessed this endeavor, and dozens of new "Gospel centers" have sprouted up all over India, led by passionate and dedicated probationers.
The church body believes these young men are inspiring models of Christian servanthood. They venture into unknown areas, usually facing persecution from anti-Christian groups. As one seminary student put it, "To live and to grow as a Christian in India means persecution."
The probationers also make big financial sacrifices for the sake of the Gospel, sometimes using their own savings or even going into debt to help build a new church. When asked if they have any prayer requests, most express a desire for more land and a larger building to better serve their overcrowded churches. They don't dwell on hardships, but find great joy in the work they are doing.
One such man is Navaraj, who currently serves as a probationer at four Gospel centers. He struggles to support his wife and two children with his meager salary of 2,700 rupees ($62) per month, but instead he chooses to talk about the people in his congregations who have found hope in Christ.
"Many people who come to the church are very poor," Navaraj says. "They are looking for financial help. But then the Gospel touches their hearts, and they become content."
IELC leaders hope the so-called "probationers-as-church-planters program" serves as a launch pad for future growth.
The church body also is taking steps to improve its capacity for growth by expanding the educational options at Concordia Theological Seminary here through the inauguration of the Bachelor of Divinity (B.D.) program. Special guest Dr. David Buegler, LCMS fifth vice president, performed the honor of officially opening the B.D. program during the Golden Jubilee. The new undergraduate degree is expected to attract students and faculty from across India and has even received interest in other Asian countries.
According to Samuel, the seminary overcame many hurdles to get the B.D. program started and its inauguration was the fulfillment of years of prayer and planning.
"God's plan is not early. God's plan is not late," Samuel said. "He will allow it in the right time, and today is the right time."
The people of the IELC say they are now praying that God would also allow this to be the "right time" for the Good News to catch fire and spread throughout India.
Josh Lange is a long-term missionary with LCMS World Mission in Hong Kong. He serves as communications specialist for Asia.
Posted July 31, 2008