By Paula Schlueter Ross
DITTMER, Mo. — Born and raised in China, Weiqin Gu always thought of Christianity as "a foreign people's religion."
Even when she moved to the United States in 2004 with her husband, a graduate student, and the couple's then 6-year-old daughter, Gu wasn't anxious to e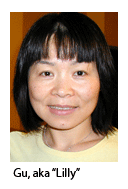 mbrace the Gospel of Jesus Christ.
Now, four years later, the 38-year-old, who goes by an American nickname, Lilly, is a baptized and confirmed Lutheran who has returned to her homeland four times to teach English and share her newfound faith with others.
"I think God called me to do that because we always meet people [in China] who are interested in the Bible," Lilly told Reporter. Her faith, she said, "has changed my life." She used to worry about the future, but now she doesn't: "I trust God," she said. "I know God is in control of everything."
Lilly shared her story as one of 17 participants from eight countries at the 13th In-depth Training Conference for International Students, May 14-21 at a Christian retreat center here, 30 miles southwest of St. Louis. The event also included students from Indonesia, Japan, Taiwan, South Korea, Kyrgyzstan, Democratic Republic of Congo, and Tanzania.
The conference is sponsored annually by International Student Ministry Inc., a mission society based in Stevens Point, Wis., and LCMS World Mission to help foreign students at U.S. colleges learn more about Christianity.
This year's gathering was different from its predecessors because it included five non-Christians. Typically designed for new Christians, the event focuses on teaching the basics of Christianity, and how to lead Bible studies and other small-group ministries. It also gives participants opportunities to practice talking to others about their faith.
Rev. Lee Meyer, a campus pastor at Arizona State University, Tempe, taught the salvation-history portion of the recent weeklong conference. A former missionary in Papua New Guinea, Meyer says he's "doing the same thing" as a campus pastor, since both involve sharing the Gospel cross-culturally. The conference, Meyer said, was "a wonderful experience" for both the Christian students and their non-Christian counterparts, who, as "serious seekers" have expressed an interest in learning more about the faith.
Without realizing it, the Christians gave testimonies as they shared their faith stories, he said. And so, in the course of the discussions, the "seekers" were immersed in Christianity "in a very natural, friendly, warm way."
"For those who are already Christian, certainly we're trying to build them up in their faith," explained Rev. Paul Hoemann, the conference's catechism instructor. "But with these seekers, maybe this will be a really significant week in their life — that the Holy Spirit works in them and they say 'yes' and want to be baptized."
More than 75 percent of the 500,000-plus foreign studen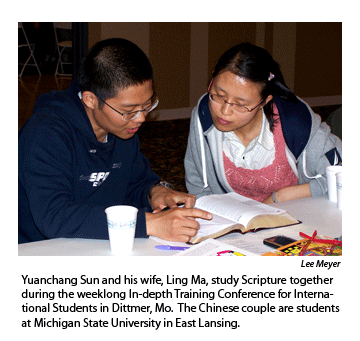 ts on U.S. campuses return to their home countries, according to Hoemann, campus pastor at University Lutheran Chapel in College Station, Texas, which serves students at Texas A&M. He says the annual retreat is "ideal for our ministry to international students because we're equipping them to go back to their homelands with tools that they can use to do outreach there, to be missionaries, in places where we may not be able to do that kind of thing."
Conference facilitator Rev. Carl Selle, pastor of Peace Lutheran Campus Center in Stevens Point, Wis., says he enjoys the gathering because "it's invigorating to see people who are excited about spiritual things — they want to learn and they want to grow. And they want to do that so that they can share with other people from their own countries and cultures."
Lilly said she came to the conference to learn more about the Bible and to learn how to share her faith, which was planted by U.S. Lutherans who helped her learn English, and from her daughter, who learned about Christianity from friends and asked to be baptized.
Those who knew Lilly before she became Lutheran say she now looks "so happy and so at peace," she said.
"So I tell them it's [because of] God. I don't have any worry — I just pray to God."
Lilly said she had a "wonderful" time at the conference. Even though attendees represented many different countries, "here, we're all in one family — we're all sisters and brothers in Christ."
Keiko Yoshimura, who works with international students in Irvine, Calif., led conference sessions on how to start and lead a small-group ministry. She says working with international students is more valuable than most people think.
"People may not see it as a big ministry, because you don't necessarily see the church growing — students come and go," Yoshimura told Reporter. "But still, the seed is planted in their hearts … and they take that to their home country and share the Gospel with their family and friends back home." These students are, she said, "making disciples all over the world."
Likewise, the In-depth Training Conference for International Students also is valuable, she said, because it's designed to make participants more knowledgeable about Christianity, strengthen their faith, and equip them as ministry leaders.
"It's only one week, but we see the potential not only here, but worldwide," said Yoshimura, who is from Japan. "We see the big picture here."
For more information about working with international students — including resources and a list of international student ministries by state — visit the Web site of International Student Ministry Inc. at www.isminc.org or call (715) 677-4877.
Posted June 26, 2008