New from Concordia Publishing House is A New Song: Planted by Streams of Water — Psalms of Divine Wisdom, a six-week Bible study written by women, for wom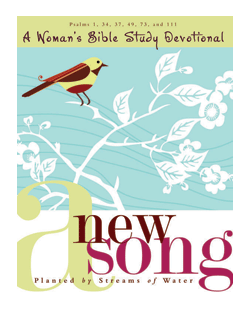 en. It is the first release in the A New Song series.
The new book, says author and editor Jane L. Fryar, focuses on six "wisdom" psalms — Psalms 1, 34, 37, 49, 73, and 111 — and "is designed to help you grow in faith in your Savior, Jesus Christ, and to see how God works in your life as His precious and redeemed daughter."
Each of the study's authors, Fryar says, "found help, encouragement, and direction for her life from God's Word, and now shares her true story with you in her own words."
Each week highlights a psalm, and weekday entries include a personal story, or "faith narrative"; a prayer; and study questions that are designed to encourage each participant's "own personal reflection," according to Fryar. The Bible study may be completed by individuals or small groups. Also available is a Small Group DVD Kit with five- to 10-minute video presentations and promotional materials.
Authors include Fryar, Rose E. Adle, Nicole E. Dreyer, Rachel Hoyer, Julie Stiegemeyer, Jane Wilke, and Ruth N. Koch.
A New Song: Planted by Streams of Water is available for $12.99 for the 224-page paperback, or $69.98 for the small-group DVD kit. For more information, or to order, contact CPH at (800) 325-3040 or visit http://anewsong.cph.org on the Web.
Posted July 3, 2008