With Dr. Bruce Hartung
The flow of correspondence into my mailbag has been quite active concerning recent columns about two very different subjects — domestic violence and seminary student funding. I'd like to share a few readers' responses (in bold) through this month's column.
As you note, violence within the congregation does happen. It seems incongruous that violence would occur between two members of the Body of Christ. So, we feed the hungry, clothe the naked, and now protect the battered. … LCMS people need to be familiar with the laws that can be applied to those who commit violence against family members.
Well said! Several additional resources were suggested by readers. Go to www.ojp.usdoj.gov/bjs/ abstract/fvs.htm for statistics about domestic and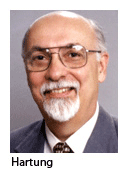 family violence. That Web site gives more concrete data than I provided in my earlier column about violence. In addition, the American Lutheran Publicity Bureau (www.alpb.org) has several excellent brief brochures on the topic. And the Faith/Trust Institute (www.faithtrustinstitute.org) has some powerful resources available, although LCMS members should be prepared for divergent theological views on that site. Finally, our own Lutheran Women's Missionary League (www.lwml.org) once produced a video titled "The Open Window" — an excellent resource that should be seen in every congregation.

There is no doubt that domestic and family violence — violence of any kind — should be a major concern of all people. But especially among believers in Christ, we need more active conversation about the topic, intentional work toward protecting those who are victims of violence, and help for those who commit it.

On seminary student funding, a number of readers took the opportunity to raise what I think is the crux of the matter — our financial priorities in the LCMS. Some comments were a bit sharp, such as the one that follows.
Instead of our challenge being [the] planting of all these new congregations by 2017 — with no pastors to guide them — maybe our goal should be to fully fund every single current and prospective student who wants to go to the seminary by 2017, and then let them grab the ball and run [with it].
Some comments of others were even sharper, but for the most part, they boiled down to the need to examine our funding priorities. I wonder if there couldn't be other ways that the issue of funding priorities might receive broader discussion in our church. Neither this column nor its writer has any way to implement that. However, from my seminary position, I do see some of the effects and results of what is currently happening or not happening because of our need to take a look at funding priorities. Perhaps this could become a major effort, at least for the Synod's Board for Pastoral Education.

Other writers told some wonderful stories of congregations, circuits, and districts coming together to support seminary students. One story I hope is told in a fuller way is about a student described as "one of those at the top of his class," who applied to the St. Louis seminary but was told to sit out a year and bring down his debt. People surrounding him mobilized their resources, and by the end of May raised almost $60,000 for him. Good for them!

The reader who wrote of that story also stated, If we want to have ordained and non-ordained workers in our congregations, we must begin to rally and help students with the increasing cost of college. It is overwhelming for one or two people to think of this, but not when all of us work together.

Absolutely!
Rev. Bruce M. Hartung, Ph.D., is dean of Ministerial Formation for Concordia Seminary, St. Louis. He can be reached at hartungb@csl.edu.
Posted June 26, 2008