By Linda C. Hoops
For members of Christ Lutheran Church, Chalmette, La., the rededication April 6 of their newly refurbished church building meant "they have stability in their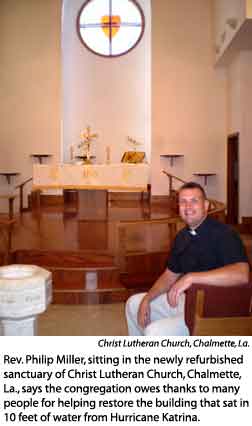 lives once again, they have a sense of home again, and they no longer feel in exile," said Rev. Philip Miller, the congregation's pastor.
The church, located in St. Bernard Parish just southeast of New Orleans, was inundated with 10 feet of water when Hurricane Katrina struck two and a half years ago.
Many of the congregation's 300 members have relocated, said Miller. "Many found that it was too difficult to return, especially a lot of our elderly members. There are no hospitals in Chalmette and the city is still very much recovering."
But about 100 members have slowly returned. Since Katrina, the congregation had been worshiping in a warehouse.
Miller said the structure of the church building remains the same, but some changes were made during the refurbishing. "We now have a free-standing altar, we added a cry room, a vestment room, and converted our kitchen and classroom into one wing."
Miller, whose own house filled with 10 feet of water, fled to Texas just before the hurricane struck.
"My wife was due to give birth to our third child the very day Katrina hit," he said. "Senior Pastor [Alfonso] Espinosa, of Living Word Lutheran Church in The Woodlands, Texas, and his wife, Traci, housed our family of five for six weeks."
Miller says he has a great many people to thank for their assistance in rebuilding the church:
Members of Living Word Church, who gave his family a "household" shower and him a job as guest pastor for six months. During that time, Miller commuted from Texas to hold services in Chalmette.
A member of a closed church in St. Louis, who lent an altar cross and eight candle stands for the congregation's temporary worship site. Having these liturgical symbols present, said Miller, "helped our church feel reverent with a sense of continuity."
The Michigan District, which was partnered with Christ Lutheran in a program started by LCMS World Relief and Human Care and the LCMS Council of Presidents soon after the hurricane. "From the very beginning and to the end, they (the district and its members) have been extremely supportive," said Miller. "They sent Christmas gift cards for many of our members and numerous household items." He said the district sent financial contributions throughout the rebuilding process, plus a check for $7,500 in honor of the rededication.
Volunteers with Camp Restore, who helped refurbish the church building.
Laborers For Christ, for providing project management.
LCMS World Relief and Human Care, for its financial support.
Congregations across the country that contributed to this effort.
Rev. Dave Buss, director of Recovery Assistance Inc., the recovery arm of the Southern District, said that of the 40 congregations affected by Hurricane Katrina, all but five have returned to their original places of worship, and one has disbanded. All the Lutheran schools in the area are operating, except for Prince of Peace Lutheran School, where Camp Restore is based.
Buss told Reporter that the need for volunteers remains critical. "The people of the Gulf Coast and New Orleans still need your help and the hope of Christ," he said.
For information about volunteering at Camp Restore in New Orleans or Camp Biloxi in Mississippi, call (888) 248-2636 or e-mail camprestore@yahoo.com. Or visit the Web site www.lcmsrelief.org.
Linda C. Hoops, a freelance writer from St. Louis, is a member of Lutheran Church of the Resurrection in Sunset Hills, Mo.
Posted May 8, 2008