Rev. Ken Klaus, speaker of "The Lutheran Hour," addresses the senselessness of the Feb. 14 shootings at Northern Illinois University, DeKalb, in a 14-minute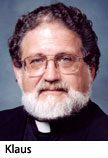 video message that's designed to provide a message of hope to young people and their parents.
The video was produced by Lutheran Hour Ministries, St. Louis, in response to a request from Lutheran Church Charities (LCC) in Addison, Ill.
LCC President Tim Hetzner said he is thankful to Klaus for the quick turnaround. "I had called him the day after the shootings to ask him to put something together," Hetzner told Reporter. "Within 24 hours, he had it done and to us to begin distribution!"
The video addresses "the nature of a sinful world that we live in," but also offers "the hope and assurance" of Jesus Christ, according to Hetzner.
Hundreds of people have viewed the video online, including on the networking Web site "Facebook," and at least 15 churches "have used the DVD on Sunday morning to show their congregations," Hetzner said.
"For 77 years 'The Lutheran Hour' has been preaching a changeless Christ to a changing world," Klaus told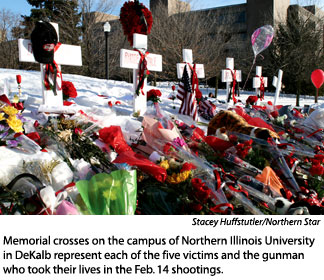 Reporter. "We want to thank Lutheran Church Charities for asking us to partner with them in bringing our loving Savior to a time and place where His great light shines even brighter because of its contrast with the darkness of a tragic situation."
To view the video, click here.
To request a free DVD of the video, call Lutheran Church Charities at (866) 455-6466.
Posted March 13, 2008