Thomas W. Kuchta, vice president finance/treasurer of The Lutheran Church—Missouri Synod, was named a finalist in the St. Louis Business Journal's first-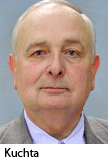 ever "CFO [Chief Financial Officer] of the Year" awards competition held June 5 in St. Louis.
The St. Louis Business Journal, one of 41 metropolitan business newspapers owned by American City Business Journals, provides local business news and information to 164,000 readers.
In the competition, more than 70 nominees were considered in five categories:
public companies;
large private companies;
medium private companies;
small private companies; and
nonprofits.
Three finalists were named in each category. Kuchta competed in the nonprofit category.
The CFOs of Ranken Jordan, a pediatric specialty hospital, and United Way of Greater St. Louis also were named finalists in the nonprofit category. Jean Bardwell of Ranken Jordan was named the winner.
"I am honored to be among the finalists in this competition," Kuchta said. "But more importantly, I am so grateful for the opportunity through this process to tell others about the work of the church — not just here in St. Louis, but across the country and the world."
Kuchta, 66, is serving his third term as the Synod's vice president finance/treasurer. In that role, he oversees the church body's $100 million operating budget and serves on the boards of directors and investment committees of many LCMS entities, including Lutheran Church Extension Fund; LCMS Foundation; Concordia Plan Services; Concordia University System; LCMS Board for Pastoral Education; and Concordia Publishing House.
In addition, Kuchta sits on the board of directors for Lutheran Housing Support, an independent LCMS nonprofit corporation that works to stabilize communities and strengthen neighborhood churches across the country by providing affordable home ownership for low- to moderate-income families. He also serves on his home congregation's stewardship and finance committee.
Kuchta and his wife, Ilona, are members of Hope Lutheran Church in St. Ann, Mo.
Posted June 12, 2008