LCMS World Relief and Human Care awarded initial emergency grants to two Lutheran Church–Missouri Synod congregations with members and f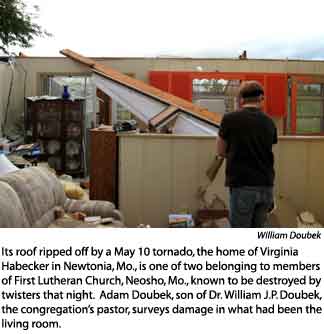 acilities affected by tornadoes that tore through Oklahoma, Missouri, and Arkansas the night of May 10.
Mother's Day weekend twisters there and in Georgia left at least 23 people dead (16 in southwest Missouri alone). The tornadoes in the Midwest ripped a 74-mile swath of leveled buildings and splintered trees.
Among those killed was Tyler Casey, a 21-year-old Seneca, Mo., volunteer firefighter and grandson of Joanne Hinz, who is a member of First Lutheran Church, Neosho, Mo. Casey died of injuries caused when his truck got caught in a tornado Saturday as he was out warning people about the storm's approach. Missouri Governor Matt Blunt later ordered that flags in three counties be flown at half-staff in Casey's honor.
News agencies report that it has been 10 years since twisters have caused as many deaths in the United States as those so far in 2008.
At least two homes of other First Lutheran Church, Neosho, members were completely destroyed by the Mother's Day weekend storms, with more losses anticipated as assessments continue. No severe injuries have been reported among members.
LCMS World Relief and Human Care awarded the congregation an initial $1,000 emergency grant to help with members' needs and to purchase food, water, and blankets for a community shelter First Lutheran was preparing to operate at its facilities.
The Synod's mercy arm also awarded an initial $1,000 emergency grant for members' needs to St. John Lutheran Church and School in Stuttgart, Ark., after a tornado blew the roof off the school and caused relatively minor damage at the church several blocks away. Repairs for the school property are estimated at between $1.5 million and $2.5 million.
The St. John school — with 102
students in pre-kindergarten through 7th grade — finished its year at the church's parish hall.
Damages to the Stuttgart church and school properties are expected to be covered by insurance.
Although no St. John members or school families lost their homes, many reported extensive property damage.
Funds for the Stuttgart congregation are earmarked to help church and school families. For instance, one family with a child who has diabetes needs a generator to keep insulin refrigerated until power can be restored.
Rev. Glenn Merritt, director of disaster response with LCMS World Relief and Human Care, said May 12 that attempts were still being made to contact other LCMS congregations in the storm-affected areas, including St. John Lutheran Church, Purdy, Mo.
He added that donations to the Synod's mercy arm are vital to its ability to help LCMS districts and congregations respond to needs among their members and communities after disasters such as the Mother's Day weekend tornadoes.
Mail donations earmarked "Tornado Relief 2008" to LCMS World Relief and Human Care, P.O. Box 66861, St. Louis, MO 63166-6861. To give via the secure credit-card gift line, call (888) 930-4438. To donate online, go to http://givenowlcms.org.
Concerning those affected by the tornados, LCMS President Gerald B. Kieschnick said, "We are all saddened. Our hearts are full with deep compassion for those losing their homes, loved ones, communities — for those trying to recover physically, psychologically, and financially from these powerful effects of nature.
"We hold everyone in our prayers — those in need of care and those providing the care — and I speak here not only of the tornado victims but also of the many thousands suffering or serving in Burma [Myanmar] and China.

"We plead for the grace of God," he said, "to touch their lives through His Word of assurance and through the ministry of our congregations and others — such as LCMS World Relief and Human Care, Lutheran World Relief, Lutheran Disaster Response, and Laborers for Christ — who are working hard to help people deal with their troubles.

"Romans 8 offers a universal truth for all concerned: 'Who shall separate us from the love of Christ? Shall trouble or hardship or persecution or famine or nakedness or danger or sword? . . . No, in all these things we are more than conquerors through him who loved us' " (vv. 35, 37).
Posted May 15, 2008