The Apple of His Eye, a St. Louis-based LCMS mission society, and two of its missionaries filed a lawsuit May 1 in the U.S. District Court for the Eastern District of Missouri seeking an injunction against the City of St. Louis for violation of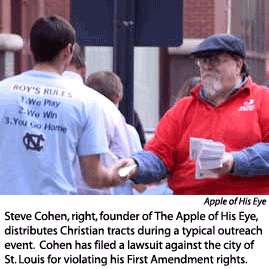 their First Amendment rights to proclaim the Gospel in public places.
In its mission to "bring the message of Jesus the Messiah to Jewish people and gentiles alike — and to equip the church to do the same," the Apple of His Eye regularly sponsors outreach events in public places, such as parks, where its staff and volunteers distribute religious literature and engage passersby in conversation about Christianity.
In 2006, Apple of His Eye founder Steve Cohen and senior missionary Alan Butterworth were distributing Christian tracts during a "gay pride" festival in Tower Grove Park in St. Louis when they were threatened with arrest by park officials unless they stopped handing out their materials, according to a news release from the mission society.
After Cohen and Butterworth removed their literature from the park, they returned to share personal testimonies with people visiting the park. Officials again threatened to arrest Cohen and Butterworth if they did not leave the premises, the news release reports. The two left, even though they believe that religious speech, through the distribution of literature and expressions of religious views, is fully protected by the First Amendment.
The lawsuit was filed after the mission society made several unsuccessful attempts to resolve the matter with the city. The suit is being handled by the American Liberties Institute of Orlando, Fla.
Parties in the lawsuit were unable to talk to Reporter until after the court renders its decision.
For more information about The Apple of His Eye, visit its Web site at www.appleofhiseye.org or call (636) 326-4040.
Posted May 29, 2008