"Teaching For Life" is a new resource from Lutherans For Life (LFL) designed to help Lutheran school teachers apply God's Word to life issues in their classrooms.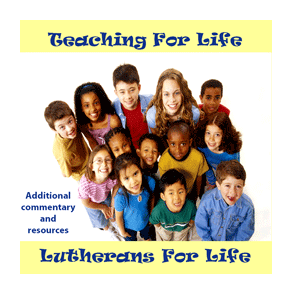 The program teaches nine key pro-life concepts — one for each month of the school year — and gives suggestions on how teachers can integrate them into subjects such as religion, math, and social studies.
"Teaching For Life" has five grade-specific formats: PK-K, 1-2, 3-4, 5-6, and 7-8. Each grade level has nine units based on the following life themes:
Unit 1: For Life from the Beginning of Time: The Importance of a Six-Day Creation.
Unit 2: For Life Because God Is — The Trinitarian Value of Human Life.
Unit 3: For Life from the Very Beginning of Life.
Unit 4: For Life in the Womb.
Unit 5: For Chaste and Decent Lives.
Unit 6: For Life and Loving them Both.
Unit 7: For Life and Healing Broken Hearts.
Unit 8: For Life When Life Isn't Good.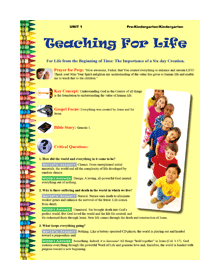 Unit 9: For Life at Life's End.
Sample pages from the Unit 1 packet for grades 1-2, ask critical questions, such as, "Why is there suffering and death in the world in which we live?," and then give "the world's response" as opposed to "the Word's response." Activities range from creating murals depicting God's creation to setting up dominoes demonstrating intelligent design. Also included is a suggested letter to parents explaining what is being studied, to reinforce their child's learning.
Each grade level resource costs $49.99 and includes a tri-fold color packet that provides ideas and activities to teach the concepts, and a CD with additional resources, commentary, and teaching tools. The complete package for all five grade levels costs $199.99. Also available for purchase are "Maker's Markers," bookmarks that include messages and Scriptural quotes (set of four for 15 cents).
All items are available for purchase on LFL's Web site at www.lutheransforlife.org by clicking on the "What's New" link, or by calling (888) 364-LIFE (5433).
Posted Oct. 9, 2008