LCMS Life Ministries and Lutherans For Life both are offering resources designed to help congregations observe "Life Sunday" on Jan. 18 or an alternate date.
Life Ministries, a program area of LCMS World Relief and Human Care (WR-HC), is providing free online resources including sermon helps, a psalmody, and hymn suggestions. The new Life Sunday sermon study, written by Rev. Matthew C. Harrison, executive director of LCMS WR-HC, is based on John 1:43 and Psalm 139:1 from the lectionary.

To download the resources, go to www.lcms.org/lifelibrary.
New bulletin inserts, a Bible study, sermons, and a children's message are available from Lutherans For Life (LFL) for Life Sunday.

"Good News For Life!" is the theme for the 2009 Life Sunday observance, which is designed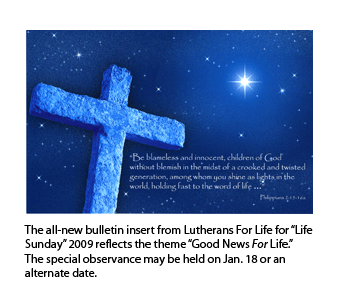 to coincide with the anniversary of the U.S. Supreme Court's Jan. 22, 1973, decision that legalized abortion.
"The Gospel of Jesus Christ is not just Good News. It's Good News for life! It's Good News that brings life, speaks of life, speaks to life, and changes life! And we are called to let it shine!" LFL Executive Director James I. Lamb says in a cover letter with a sample mailing of the new materials that LFL sent in October to congregations, LFL groups, and other "friends of life." LFL is a pan-Lutheran organization based in Nevada, Iowa.
LFL's new Life Sunday materials include five sermons:
In "Choice: A Word of Death, A World of Life," based on Rom. 1:18-2:4 and Eph. 1:3-13, Rev. John Juhl talks about "choice." His sermon presents "man's choice," which is "bad news that leads to death," and then "God's choice," which is "Good News that leads to life." Says Juhl: "His choice was not a selfish choice, but a self-giving choice."
In "The Preciousness of Life," from Phil. 2:15-16, Dr. David Veum points to the Word of Life as the agent to bring "true change to our world of darkness." He writes that our culture "has grown numb to the sounds of death" and makes clear that "we all choose death because of our sin." Says Veum: "The Author of Life also chose death. He chose to die for us all."
In "Cosmic War," based on Rev. 12:7-12, Rev. Christopher Esget writes that "there's a cosmic war going on" between the devil and the children of men. Abortion is one battle in the war, he says, but Christ has been victorious over the devil.
In Good News for Life," from Phil. 2:14-16, LFL Executive Director James I. Lamb emphasizes that "the Good News for Life is Good News for your life."
Lamb also is the author of "Chastity: The Choice of Champions," from 1 Cor. 6:12-20. This sermon, for those who would prefer to preach on one of the appointed readings for the second Sunday after Epiphany (Jan. 18), focuses on "how God makes us champions in Jesus Christ, which moves us to honor Him and others through chastity," Lamb says.
All five sermons may be downloaded free from the LFL Web site at www.lutheransforlife.org.
Other new items for 2009 that may be ordered separately are:
a bulletin insert (7 cents each, item no. 135BI).
a "Just for Kids" bulletin insert (7 cents each, item no. 701BI).
a reproducible Bible study (50 cents each, item no. 135BS).
a reproducible worship service format (15 cents each, item no. 1821).
a children's message (50 cents each, item no. 1828).
a CD ($5, item no. 1818CD) includes all five sermons, plus the worship service, children's message, and Bible study.
Those who order Life Sunday resources from LFL also will receive a free copy of the 14-minute "For Life" DVD with study guide.
LFL also offers numerous brochures, booklets, a memorial service for victims of abortion, and other resources. For more information, visit the LFL Web site at www.lutheransforlife.org or call 888-364-LIFE (5433).
Posted Nov. 26, 2008