Janet B. Leet, principal of Christ Community Lutheran School (CCLS), located at Webster Gardens Lutheran Church, St. Louis, is one of 62 national and interna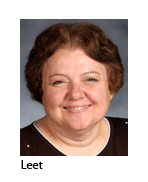 tional educators recognized as 2008 National Distinguished Principals (NDP) by the National Association of Elementary School Principals (NAESP) and the U.S. Department of Education. She will receive her award Oct. 17 at a ceremony in Washington, D.C.
The award recognizes "exceptional principals and their commitment to creating successful learning communities," said Gail Connelly, NAESP executive director. "We are all indebted to these visionary leaders who represent thousands of principals who every day are preparing our children for bright futures, which in turn impacts every aspect of our society."
Leet, who has served as principal of the school for 23 years, also was named the 2008 Distinguished Lutheran Elementary Administrator by the Lutheran Education Association in February. In addition to serving as principal, she also teaches second grade at the school, which serves children through grade four.
"The LCMS is very proud of Janet Leet," said William Cochran, director of School Ministry for the Synod's Board for District and Congregational Services. "She is very deserving of the award."
Leet's nomination states that she is a "jewel of the LCMS" and that she could serve as "the poster child for Lutheran elementary administrators" for her dedication to the students and her "strong commitment to serving the Lord."
One of Leet's colleagues wrote, "Janet is amazing and has been blessed with so many gifts, which she values and uses to the fullest of her ability. She is a great communicator. Encouraging Christian growth for the youth of her church is a large focus for Mrs. Leet. She plays the piano for church and performances, presents children's messages, serves as a member of the nurture board and early childhood board, organizes and teaches vacation Bible school. She has served at the LCMS National Youth Gathering.
Leet received a B.S. degree in education in 1972 from the University of Kentucky in Lexington, and an M.A. in education in 1978 from Wright State University, Dayton, Ohio. She completed her colloquy through Concordia University Chicago in 1998. Leet taught at Immanuel Lutheran School in Hamilton, Ohio, from 1973-82 where she also served as principal for five years. She has served in various district and national capacities, including the LCMS School Leadership Development team (SLED).
Leet said the award is not just hers, but belongs "to the team ministry here at CCLS."
"God has blessed our school with wonderful students, families, and teachers. Through their work and team spirit, they all have made this award possible."
Posted Oct. 16, 2008