The Holy Bible and Luther's Small Catechism in Spanish have been published by Lutheran Heritage Foundation (LHF) in one book to help Lutherans reach Hisp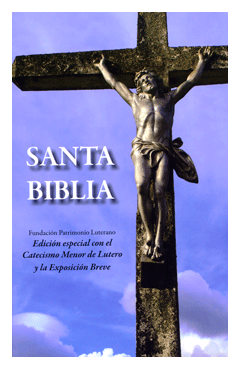 anics with the Gospel — in predominantly Spanish-speaking countries and in communities throughout the United States and Canada.

LHF has published some 20,000 copies of its new Spanish Santa Biblia (Holy Bible) with the catechism for distribution in Central and South America, and for orders north of those borders.

To order copies of the combined volume, contact LHF at (800) 554-0723, or visit the Synod Recognized Service Organization's Web site at www.lhfmissions.org.

LHF — which has produced more than 425 different publications of Lutheran literature and translations — is at work in more than 80 languages. Although most of its publications are available free of charge to churches, other groups, and individuals, a donation of $10 for each volume of the combined Bible with catechism is suggested to support the foundation's ongoing work.

Rev. Dan McMiller, LCMS South Wisconsin District executive for Congregational Services — Mission and Evangelism, says he first saw the need for such a combined volume when he was a missionary in Panama some five years ago. So when LHF Executive Director Robert Rahn approached him about possible translation projects in Latin America, McMiller readily suggested that LHF produce a combined Bible and catechism in Spanish.
In an LHF news release announcing the volume's availability, McMiller says of his suggestion, "We'd have the 'people's Bible,' as Martin Luther called it, right here in one resource."

When witnessing and planting churches among Hispanics, "it is always very important that we have the Bible and the catechism there, side-by-side," McMiller said.

He explained that although large groups of Hispanics are traditionally Roman Catholic, many are unchurched, and he has found the catechism to be an invaluable tool in explaining the Bible and the Lutheran faith to them.

"Because Luther wrote the catechism for the common man with a limited education, the unchurched Latino, no matter his social status, understands it," McMiller said. "They appreciate the clarity, and the lights keep going on."

He said that Hispanics who have fallen away from the church also find the catechism appealing for other reasons.

"Most Latinos have had some Catholic background," McMiller said. "The language of the catechism is the language of the church. There's a common thread, or a common vocabulary, between the catechism of today and the traditional Roman Catholic Church of today. So the catechism is always just so intriguing to the unchurched Catholic."

Dr. Douglas Rutt, a former missionary in Guatemala who supervised the translation project for the new volume, said tha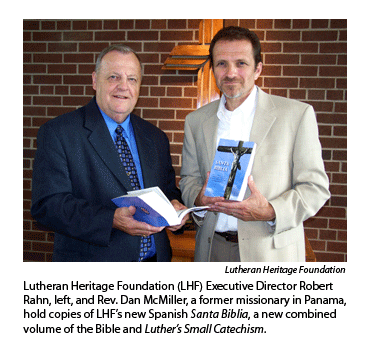 t "Luther's catechism will help people in Spanish-speaking countries see the Gospel in all its richness and beauty." Rutt currently is associate professor, pastoral ministry and missions — dean of distance learning at Concordia Theological Seminary, Fort Wayne.

"Materials like this are expensive and hard to come by in Spanish-speaking countries," Rutt said. "There is a thirst to read God's Word and other works of theology."

The catechism for the new book was translated by a team from the Evangelical Lutheran Church of Spain that included catechists Juan Carlos, Garcia Cazoria, and Javier Sanchez Ruiz, and missionary Walter Daniel Ralli. For a question-and-answer section of the catechism, Ralli addressed several contemporary issues such as abortion, euthanasia, and Pentecostalism.

The news release states that Lutheran Heritage Foundation, based in Macomb, Mich., "translates, publishes, distributes, and introduces Lutheran materials that are Bible-based, Christ-centered, and Reformation-driven."
Posted July 3, 2008