The Lutheran Witness, the official magazine of The Lutheran Church–Missouri Synod, won four awards in this year's Associated Church Press (ACP) religious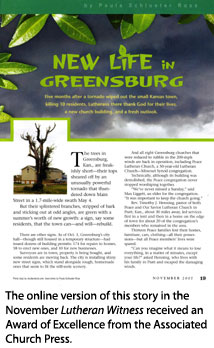 journalism competition for work done in 2007.
The awards were announced at the ACP's annual convention, April 20-23 in Dallas.
The Lutheran Witness received the following awards in the ACP's "Best of the Christian Press" competition:
a first-place Award of Excellence in the "Feature Article: News Service/Newsletter/Web site" category for "New Life in Greensburg," by Paula Schlueter Ross, which appeared on the magazine's Web site. A shortened version of the story — an update on the tornado-destroyed town of Greensburg, Kan., and Peace Lutheran Church there — also appeared in the November print edition. Ross is a writer with the Synod's Board for Communication Services.
a second-place Award of Merit in the "Publication Web site" category for the magazine's online counterpart, www.lcms.org/witness, which was redesigned last year under the supervision of Becky Cummings, manager of Internet Affairs. Cummings also is responsible for updating the site with new stories and photos each month.
a third-place Honorable Mention award in the "Convention or Meeting Coverage: Magazine" category for "One Message: Christ," pre- and post-LCMS national convention stories by Roland Lovstad and James H. Heine that appeared in the June/July and August issues. Lovstad is a freelance writer from Perryville, Mo., and Heine is managing editor of the magazine.
a third-place Honorable Mention in the category of "Personally Useful Article" for "Full House, Full Hearts," also by Ross, which appeared in the May issue. The story focused on the adoption of five siblings from Ukraine by Jonathan and Mary Stahlke of Chicago.
The ACP is the oldest religious interdenominational press association in North America, with a membership of nearly 200 publications, Web sites, news services, and individuals.
Posted April 25, 2008