Rev. David Maffett of Halifax, Nova Scotia, Canada, has accepted a call to serve as executive director of Lutheran Bible Translators of Canada.
Maffett, 49, currently serves as a mission developer with the East District of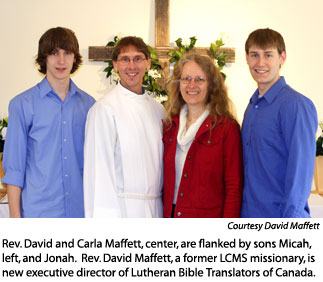 Lutheran Church–Canada. He will begin work in his new position May 19.
Maffett and his wife, Carla, served LCMS World Mission as missionaries to Togo, West Africa, from 1987 to 1999. During that time, Maffett learned the local language and culture, planted churches, trained leaders, and worked closely with a Wycliffe Bible translation team.
As field supervisor in Togo, Maffett helped establish the Lutheran Centre for Theological Studies in Dapaong, which trains French-speaking pastors from seven African countries.
A 1987 graduate of Concordia Lutheran Theological Seminary, St. Catharines, Ontario, Maffett also received a Master of Sacred Theology degree in 2004 from Concordia Theological Seminary, Fort Wayne, Ind.
"Years of experience have proven to me what we learn from the Scriptures — namely, that faith comes by hearing, and hearing by the Word of Christ (Rom. 10:17)," Maffett told Reporter. "Being convinced of our Lutheran teaching concerning the means of grace, I am delighted to be part of a team dedicated to bringing that Word of Christ to people in their own language — the language they understand."
Posted April 17, 2008