Rev. Kevin A. Massey of Chicago has been appointed director of Lutheran Disaster Response (LDR), a collaborative ministry of The Lutheran Church–Missouri Sy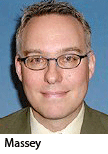 nod and the Evangelical Lutheran Church in America (ELCA).
Massey, 42, is an ELCA clergyman who has been LDR's acting director since November 2007. He succeeds Heather L. Feltman, who resigned the LDR director post last year to become president of Lutheran Social Services of New England.
Rev. Matthew C. Harrison, executive director of LCMS World Relief and Human Care, and Dr. Rebecca S. Larson, executive director of ELCA Church in Society, announced Massey's appointment in a May 15 letter to the two church bodies.
"During a year when domestic disasters are already presenting a significant challenge in this country, we believe that Kevin is the right person at the right time for this important leadership position," Harrison and Larson stated in their joint letter. "He demonstrates a unique combination of broad experience, management skills as well as a pastor heart to assist our churches in their response to persons affected by disasters."
Ordained in 1993, Massey also has served as pastor of ELCA congregations in North Dakota, Minnesota, and Illinois; as a trauma and emergency room chaplain in Chicago; and as assistant director of the ELCA's Domestic Disaster Response.
LDR is based at the ELCA's churchwide offices in Chicago.
Posted June 12, 2008