"Opened Eyes … Hearts Ablaze!" is the theme of this year's materials designed to help congregations celebrate "Lutheran Women's Missionary League Sunday" on Oct. 5, or an alternate date.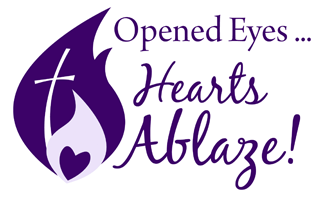 Dr. Robert Roegner, executive director of LCMS World Mission, authored the new materials, using the text from Luke 24:31-32 to develop the worship service ($4.25 per 50 for blank bulletins or $5 for 50 pre-printed bulletins, various item numbers), sermon and outline (free), and children's sermon (free).
New this year, the worship-service CD ($10, item no. 99005) includes a short video clip featuring LWML President Jan Wendorf that can be used to inform congregations about the women's auxiliary and its ministry.
Samples of the new worship-service bulletin and sermons were mailed in late June to all LCMS congregations and LWML societies.
Also included in the sample packet were:
a banner pattern for the LWML Sunday logo.
an order form for LWML Sunday materials.
information about new LWML products.
a flier on the next LWML national convention, to be held June 25-28, 2009, in Portland, Ore.
Orders of LWML Sunday bulletins or the CD will receive a free packet of new "With This Ring" Mustard Seed Devotions.
Ideas for celebrating the special Sunday include:
handing out LWML "mite boxes" to encourage mission-grant support.
collecting a door offering for LWML mites.
asking LWML members to serve as ushers and greeters, wearing their purple LWML apparel.
recognizing all LWML and Teen LWML members.
giving away LWML pencils, bookmarks, and other items.
For more information about the LWML, call its St. Louis office at (800) 252-LWML (5965) or visit its Web site at www.lwml.org.
Posted Aug. 7, 2008