LCMS World Mission is seeking 20 short-term mission teams to lead weeklong "camps" with teenagers in Poland next summer.
Through the camps, LCMS volunteers serving on mission teams will be expected to share their faith while helping Polish youth practice their English-language skills.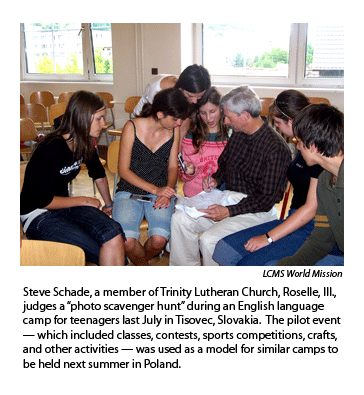 The camps also will include games, Bible study, music, and sports competitions. They will be held in July at 40 Lutheran churches throughout Poland.
"This is the first time we'll be sending teams to Poland, so we want people who are connected to sharing their faith in a fun and energetic way," said Jennifer Mustard, an LCMS World Mission placement counselor. "This is a really important opportunity to support the work in Poland."
The LCMS mission teams were requested by leaders of the Evangelical Church of the Augsburg Confession in Poland, and during their two-week stay will attend a mission conference, orientation, and evangelism event at the church body's Center for Mission and Evangelism in Dziegielow, Poland.
Ideally, each team will have seven to 10 members, with both adults and high-school-age youth. No special skills or training is needed, according to Mustard, just a willingness to help the Polish teens "become conversational in their English."
Teams are needed to serve July 9-27. The $1,000 to $1,200 cost per person includes food, lodging, on-field transportation, international medical insurance, and other field expenses. Airfare is extra and typically runs from $600 t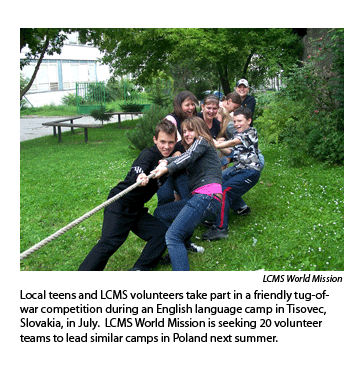 o $1,100, depending upon the departure city.
This year LCMS World Mission placed 37 short-term mission teams in 14 countries, according to Bruce Wall, program director, short-term mission service. Wall said he expects that placement figure could reach as high as 60 for 2009 if all 20 of the Poland requests are filled.
"These mission trips provide opportunities to live out our faith in word and deed," Wall said. "Members of the LCMS are responding to the needs of the church," he added, particularly as it seeks to reach 100 million people worldwide through the Ablaze! Gospel-sharing movement.
For more information about serving in Poland, call LCMS World Mission at (800) 433-3954 or send an e-mail to mission.teams@lcms.org. To download an information flier, go to www.lcmsworldmission.org/service (click on the "Search for Opportunities" box, then select "Short-Term Teams," "Eurasia," and "Poland").
Posted Oct. 16, 2008