LCMS World Mission and LCMS World Relief and Human Care have given emergency grants of $10,000 and $5,000 each, respectively, to the Evangelical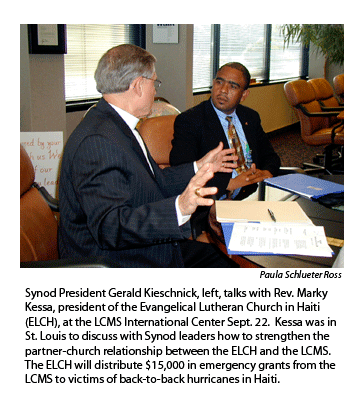 Lutheran Church in Haiti (ELCH) to help the LCMS partner church respond to the needs of people after Haiti was hit four times by back-to-back tropical storms and hurricanes, including Ike.
There is an urgent need for food, water, and medicine, and flooding in the central part of the country has caused widespread devastation and death, according to Dr. Jorge Groh, regional director for Latin America and the Caribbean with LCMS World Mission.
"It's so huge, the devastation," Groh said. The LCMS aid will be used by the ELCH to provide food and other "basic needs" to people throughout the country, he said.
Olga Groh, who is married to Jorge and serves as the Synod's project management director for Latin America and the Caribbean, said the couple is "confident that, with the help of these funds and led by [ELCH President] Rev. [Marky] Kessa, Lutheran Haitian pastors will do their best in working together to bring a piece of relief to their people in Haiti."
Posted Sept. 25, 2008