LCMS World Mission is seeking 20 volunteers to teach conversational English in Asia for two to four weeks this summer.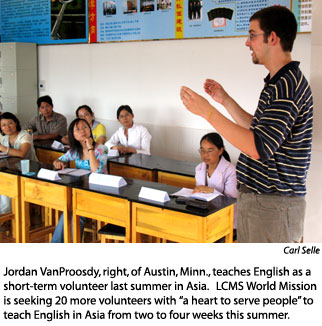 Volunteers do not need a formal teaching degree, but "do need a heart to serve people and share with them the hope that you have in Christ Jesus," according to an LCMS World Mission press release. "Teaching conversational English has proven to be a great way to build friendships with people that last long after you return home."
Short-term service "opens so many doors for long-term outreach," according to Jennifer Mustard, an LCMS World Mission placement counselor. "We really need people to go and open those doors."
For more information, contact an LCMS World Mission placement counselor at (800) 433-3954 or mission.recruitment@lcms.org.
Posted April 9, 2008