Dr. Martin R. Noland, director of Concordia Historical Institute (CHI) since 2002, resigned from that position May 9 during a regular quarterly meeting of the institute's Board of Governors at Frohna, Mo.

"I resigned my position," Noland told Reporter by phone just before the June print went to press. "And now I am seeking a call to the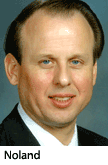 parish ministry. I know that this is the right decision for me at this time."

The institute, based in St. Louis, is the Department of Archives and History of the Synod.

Larry Lumpe, chairman of the institute's board, sent an e-mail to Synod leaders May 12 confirming "with regret" that Noland had resigned the position.

"Dr. Noland has expressed to me in the past that he has missed the parish ministry and has a desire to return," Lumpe wrote. "Dr. Noland is an excellent church historian and has been a great asset to CHI as we fulfill our responsibilities to collect and preserve articles of historical value and records of officers and entities of the Synod."

Lumpe stated that in the past year, under Noland's leadership, CHI has "nearly doubled the storage capacity of … valuable materials. We have also moved forward with an excellent museum" now under construction at the Synod's International Center in St. Louis.

"Our prayers are with Martin and [his wife] Karla that the Lord will bless him with a call to serve a parish or in another way to serve as a church historian," Lumpe wrote in the May 12 e-mail.

Lumpe's communication came the same morning that Synod President Gerald Kieschnick sent an e-mail message to Synod leaders, informing them that the Synod president's representative to the CHI board had informed him of Noland's decision.

In his message, Kieschnick said he had spoken with Lumpe, who "concurred with my suggestion that I share this brief notice with Synod leaders.

"We pray for Pastor Noland and his family in the days ahead as they await the Lord's leading, guiding, and directing in their lives," Kieschnick wrote.

Prior to joining the CHI staff, Noland served 13 years as a parish pastor, most recently at Christ Lutheran Church, Oak Park, Ill.

"I pray God's continued blessings on Concordia Historical Institute, including its work, members, and its future," Noland said during the phone interview with Reporter. He emphasized that he would continue to promote the institute and write articles for its quarterly journal.

"CHI deserves all the support we can give it," Noland said.

He said he is "particularly excited" about the history museum at the International Center. "It will be a dynamic way to teach new converts and children about the history of our church. I much prefer that we focus on the museum, and not on my departure," Noland said.

In a similar vein, Lumpe said that efforts toward filling the CHI director's post would be put on hold for the next three months, "as we get the museum ready."

Lumpe said that the new museum is expected to open this fall.
Posted June 5, 2008