At first glance, Faith Lutheran Church in La Pine, Ore., reminded Laborers For Christ (LFC) Vice President/Director Dan Baker of a temporary military facility – not the center of a longtime, now growing ministry.
"It looks like a b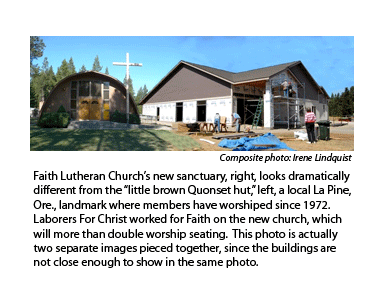 arracks," Baker said of the "little brown Quonset hut" where Faith members have worshipped since 1972. "There was one big room with no closets and just a small bit of a narthex."
This fall, Laborers wrapped up their work on the new sanctuary that will look dramatically different than Faith's current church — a semicircular building reminiscent of a World War II military facility. The hut — which is wooden, unlike the metal barracks — was never used by the armed forces but was a "kit" building purchased by Faith in the early 1970s, according to Rev. Peter Pagel.
"The shape has been an advantage for us because whenever I have been asked what church I am the pastor of, I would say the little brown Quonset hut," Pagel said. "It is how our building has been known by most everyone in the community."
"It was probably one of the most unusual older churches we've ever seen," said Irene Lindquist, whose husband, Bob, worked for Faith as assistant project manager on one of LFC's recent "building for eternity" projects.
Seven Laborers, including Project Manager Dick Thomas, worked for the congregation on the more traditional 8,000-square-foot new church. It will more than double worship seating and provide a more accessible fellowship hall for this growing church in central Oregon, near the popular resort community of Bend. The new building is expected to be completed by Christmas.
LFC is a ministry of the Lutheran Church Extension Fund (LCEF) that helps congregations undertake responsibility for their own construction projects and build within their budgets. LCEF also provided Faith with a construction loan.
Congregation and community members are excited about the new church's increased space and outreach opportunity. But they also have a strong affection for their old church that has become a local landmark. When Faith and LFC began construction, Pagel needed to reassure La Pine there were no plans to demolish the beloved hut. Instead, members hope to remodel it, possibly for an early childhood education program, and also make it available for community meetings.
Over the years, congregations and other organizations participating in the LFC program have accomplished some dramatic transformations. Laborers helped turn a Texas car dealership and an Arkansas grocery store into churches, to name only two examples.
Faith Lutheran's little brown Quonset hut, Dan Baker says, is yet another reminder that "ministry can happen anywhere."
Since LFC was founded in 1980, the ministry has helped complete more than 750 "building for eternity" projects. Laborers are Christian men and women who enjoy opportunities to witness their faith, travel, and meet new people. To learn more, contact LFC at 800-854-4004, ext. 6446, or visit www.lcef.org/services/laborers_for_christ.
Posted Oct. 30, 2008